LM Woman #48 / Zoe Young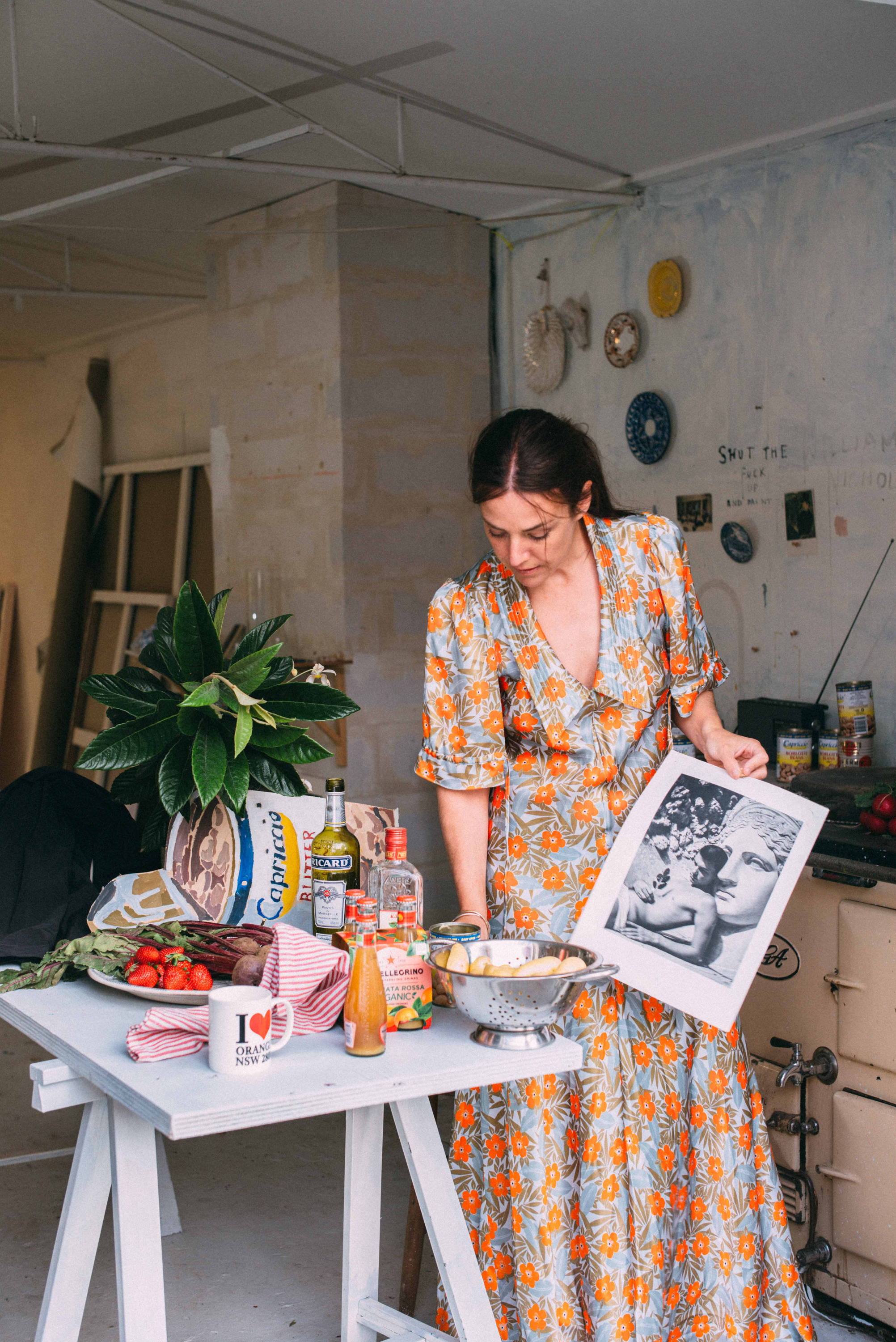 Zoe Young is an artist whose creative childhood and wanderlust has resulted in beautiful evocative work that casts a sort of alchemy over the everyday objects that surround her. When it comes to fashion  she collects the same way she curates an art collection – with care and an eye to the future.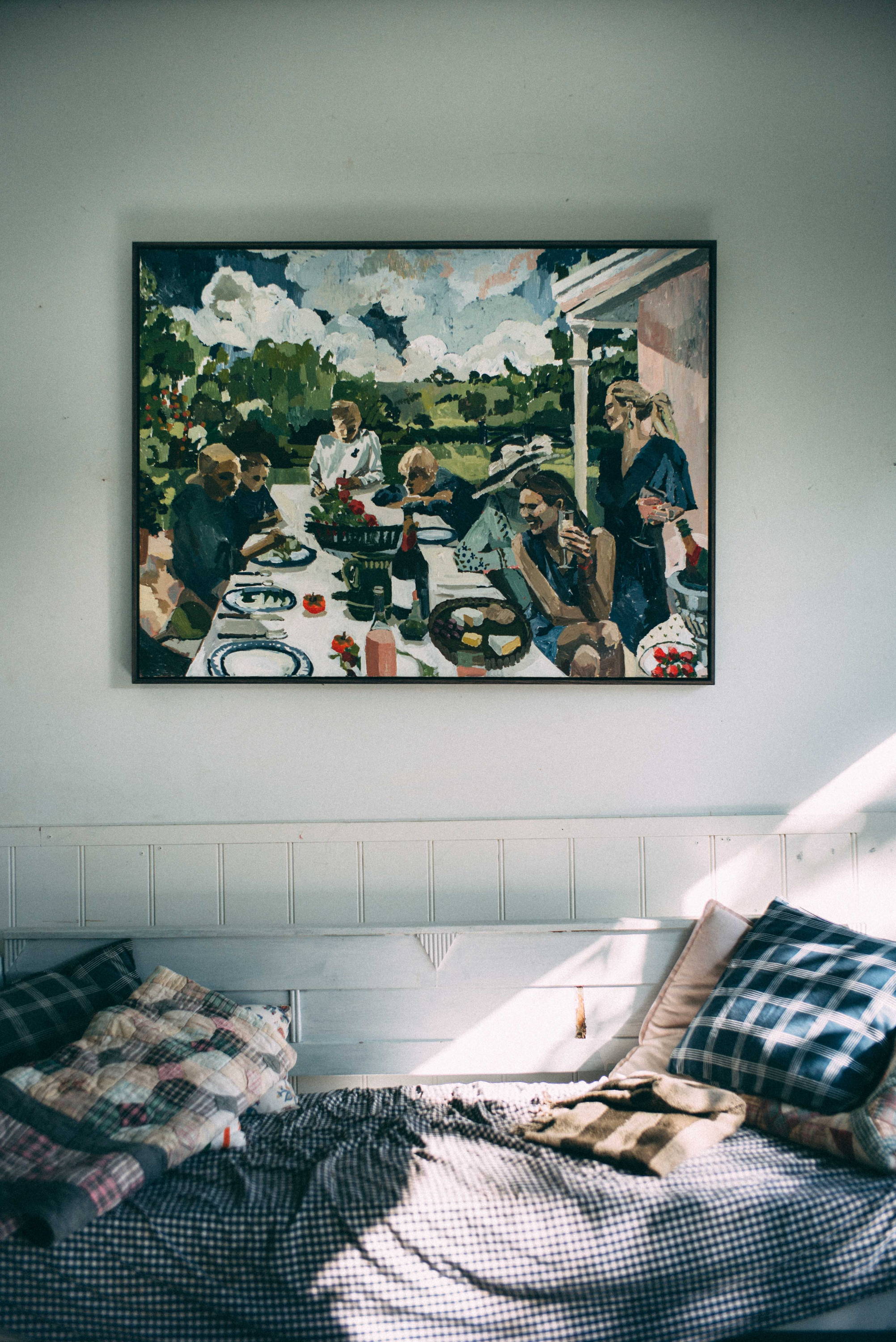 Early years moving around with your parents' careers and then travelling independently overseas meant you were 30 years old before you finished your National Art School degree. You had lots of life experience to express on the canvas do you think that helped inform your work?
Certainly. I'd kept sketch books for over a decade, filled with all sorts of things from swatches of fabric to sketches of clouds over canals in Amsterdam. I learnt that the spirit of hospitality, the ability to create a space, a vibe and feeling orchestrated by diverse sensibilities such as music, pattern, scents and light, are part of the composition of a great restaurant or hotel. I often reflect on these elements instinctively in my painting from my colourful childhood in my parents' establishments. Being the youngest member of a big family who created together I couldn't wait to escape so travelling was my way of finding my own independent style and when I returned to Australia, I knew I needed the 'space time oasis' at the National Art School to really carve out what I wanted to achieve as an artist. I should probably have been working for the family business instead of hanging out in Bondi, carving nudes and reading Ruskin's socialist theories!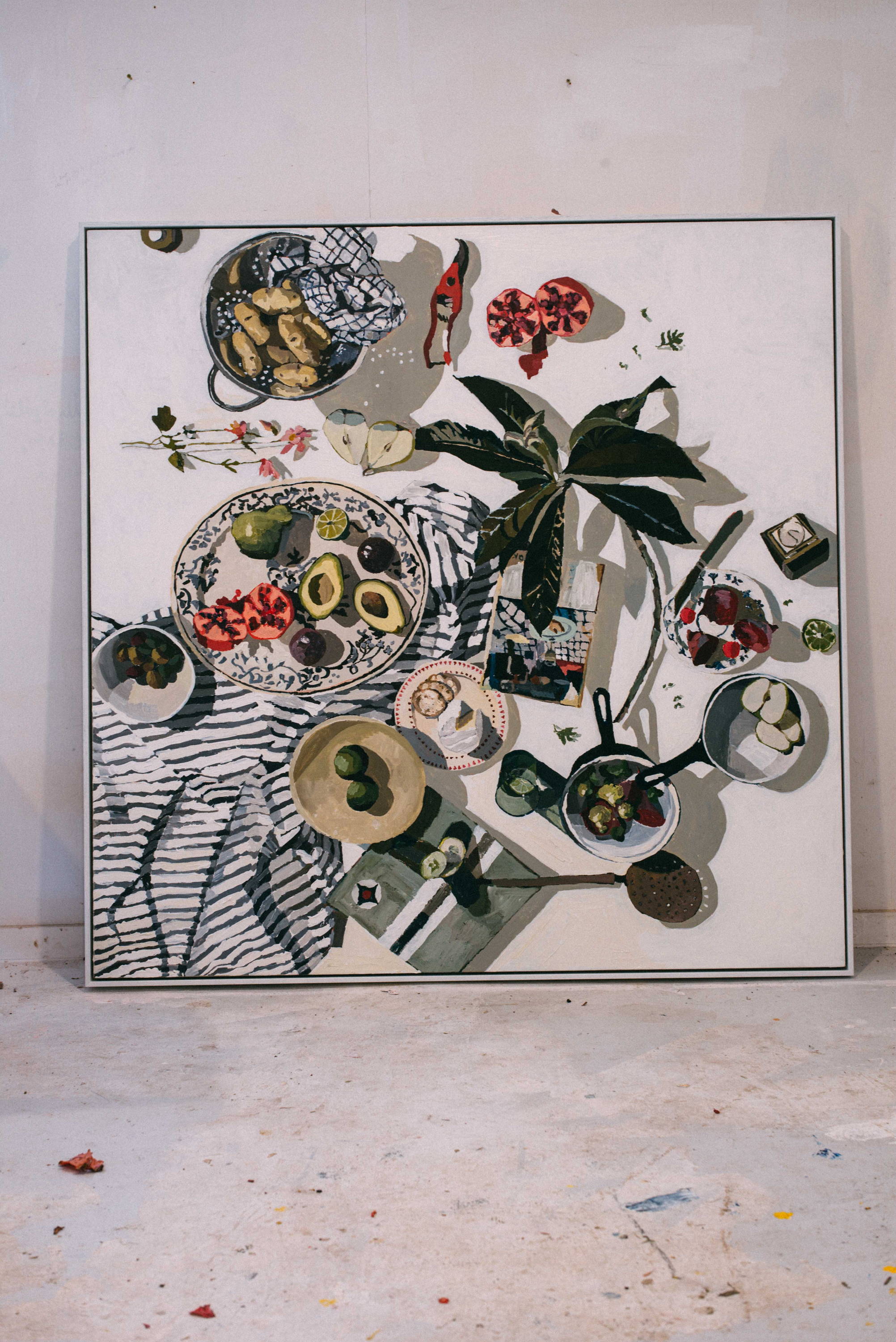 What was your trajectory to being a successful artist? Awards (of which there are many including the Portia Geach Women's Art Prize (2020), the Calleen Art Prize 2020 amongst others) must have helped?
I think success started for me at a pretty young age. I went to boarding school when I was 11 and I think you become independent and competitive. I always felt successful when I could make cool things for my friends and I started a fashion label in Year 12 and ultimately got expelled for using the school sheets to make my creations. I spent most of my twenties stopping and starting creative enterprises - I had a fashion label in Amsterdam, a design studio in Bangkok and a few little solo painting shows here and there.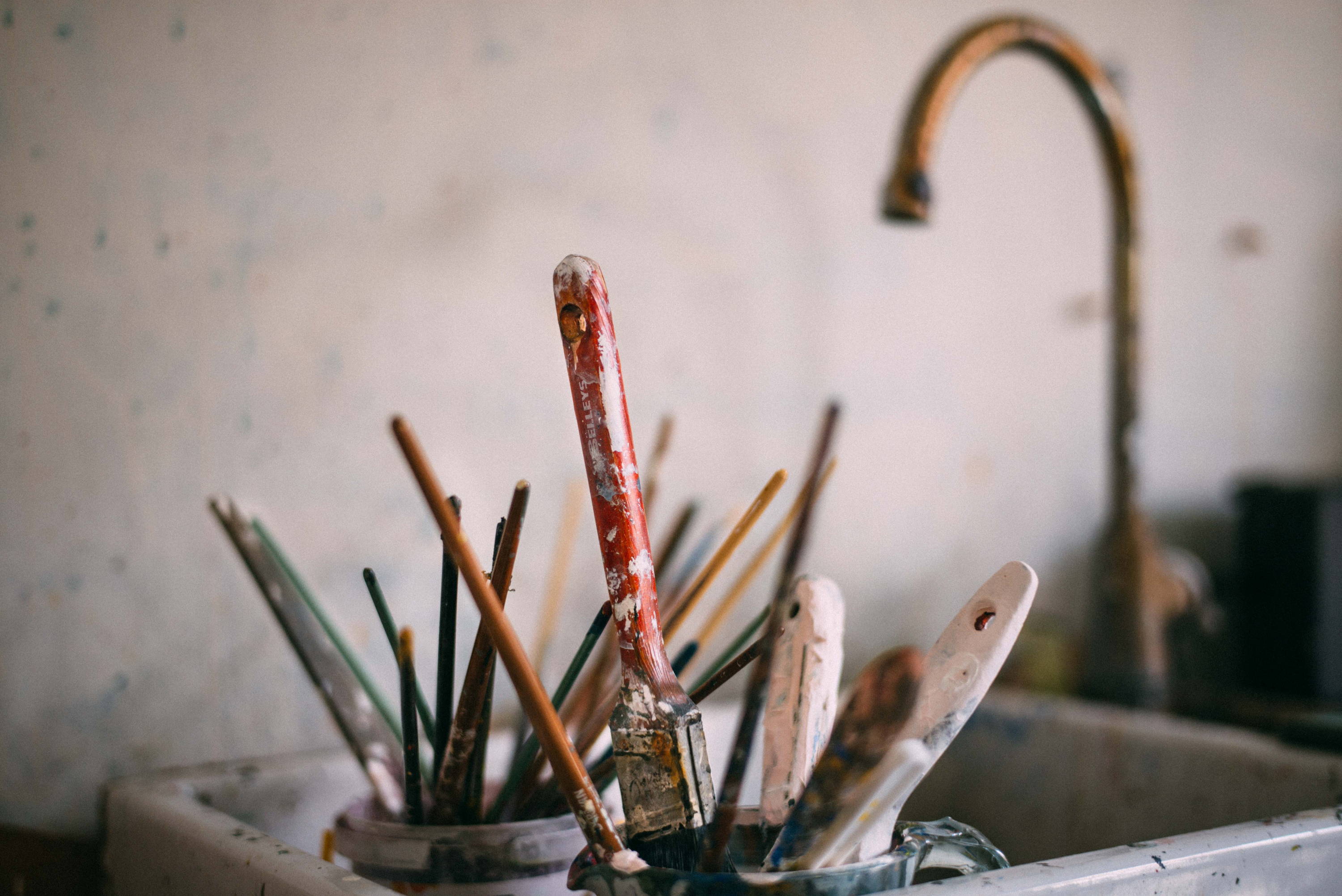 "Each work is a journey and is unique with its own obstacles and revelations."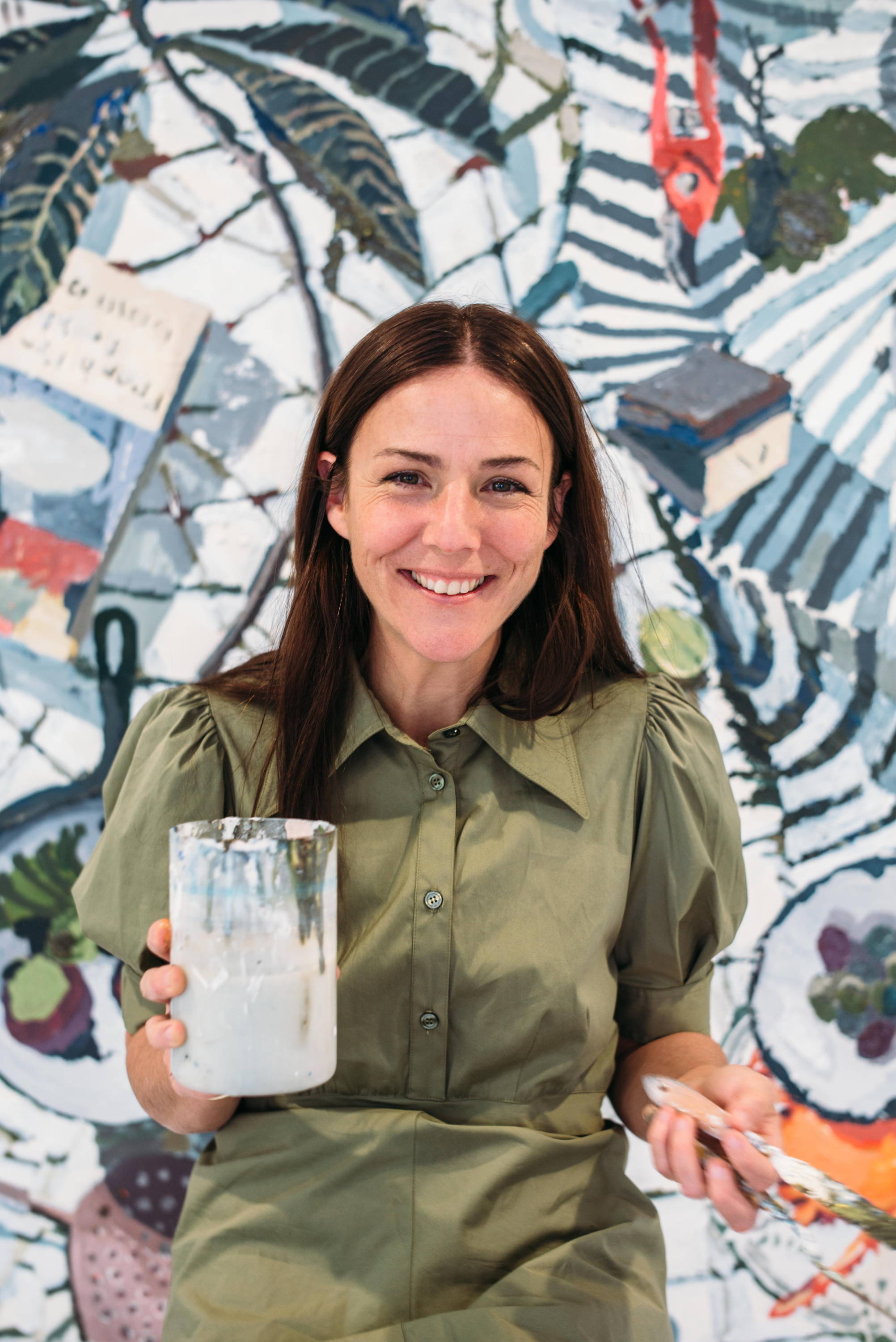 Your work gives a charge to the everyday through light, placement and colour, to produce something that is always unique (especially in a genres such as still life  and portraiture that have been expressed for centuries). By what process do you arrive at that place?
My process is all about making mistakes - what you end up seeing is heavily edited, manipulated and retold. That unravelling to find something that doesn't exist is a very personal language. Each work is a journey and is unique with its own obstacles and revelations. In the midst of preparing for a show it is difficult to define the space between the dreams I have and the work I'm creating as the two entwine. Portraiture is the greatest challenge, as distilling the essence of character with nothing but a brush and colour is one of the most immersive experiences and presents the greatest challenge, and reward, of my practice.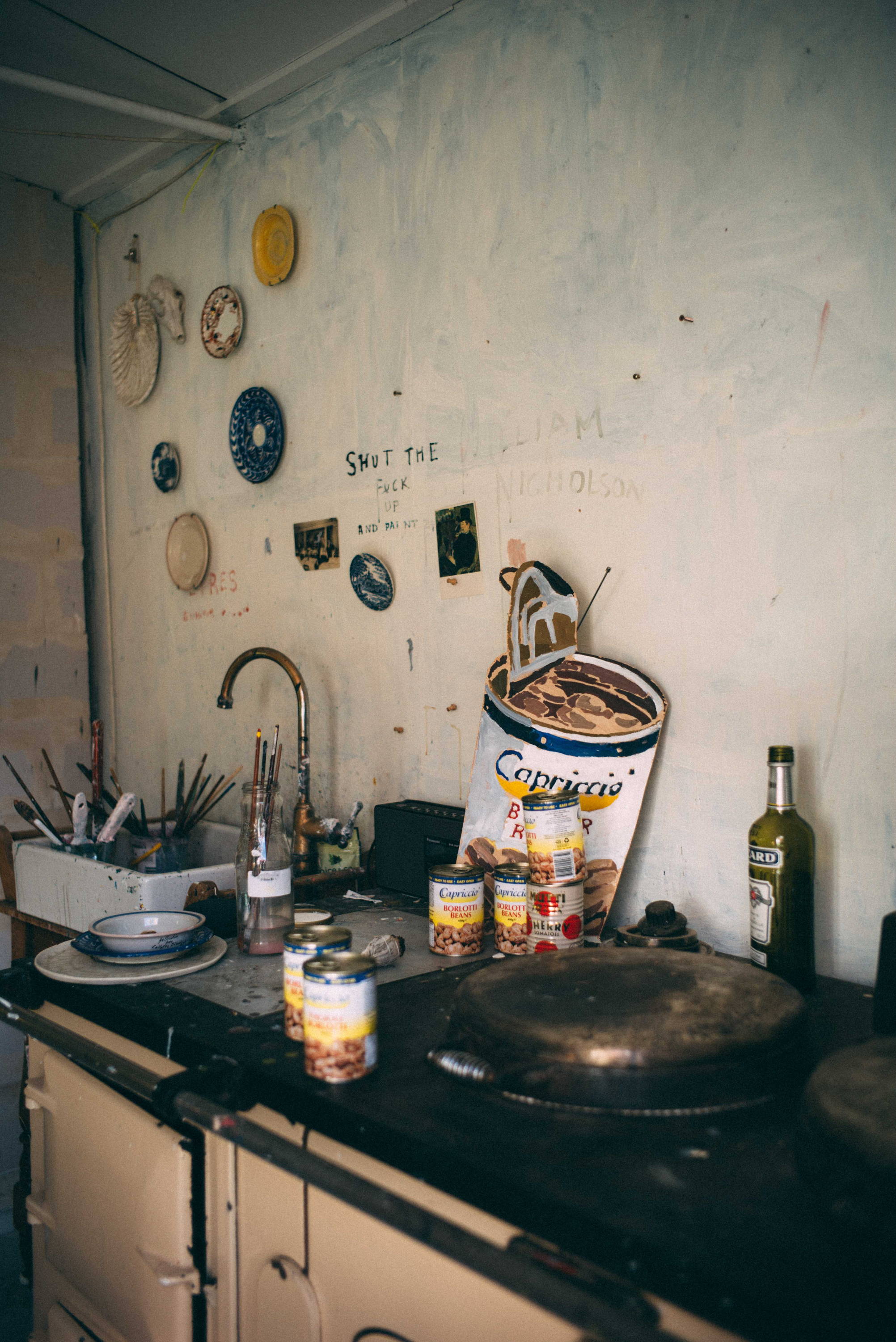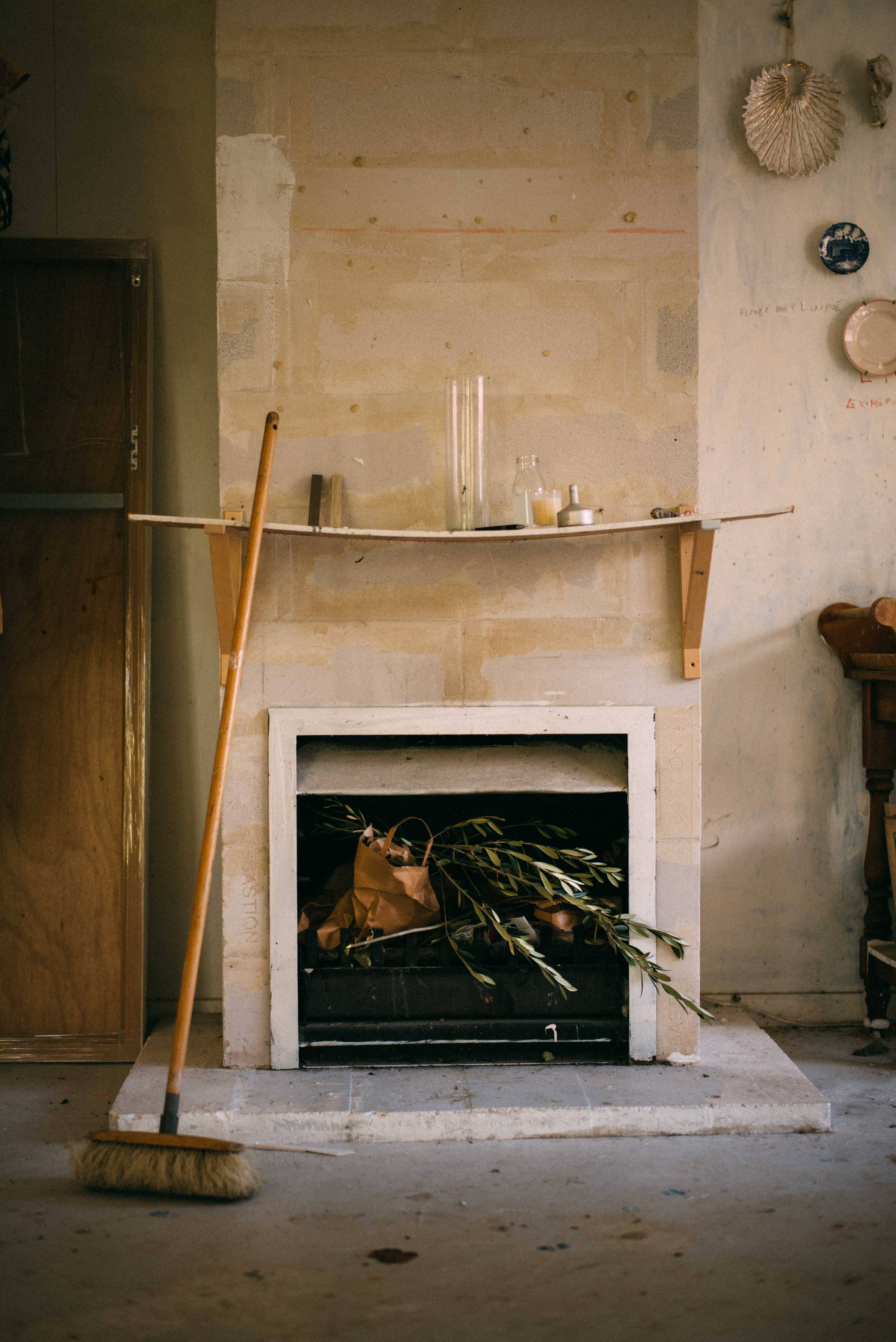 Can you tell us about your latest upcoming exhibition. What is the concept behind the title?
In my latest show 'Picnic by the Weir' I feel there is a departure from the everyday. One of the joys of Covid was deciding not to home school my young children, but resigning to the fact that it was impossible, and just taking them out on a big, long walk to the weir down the road. We'd picnic and paint and walk for hours and all I could think of was the harmony I felt with them. When they returned to their schools, the landscape continued to beckon me.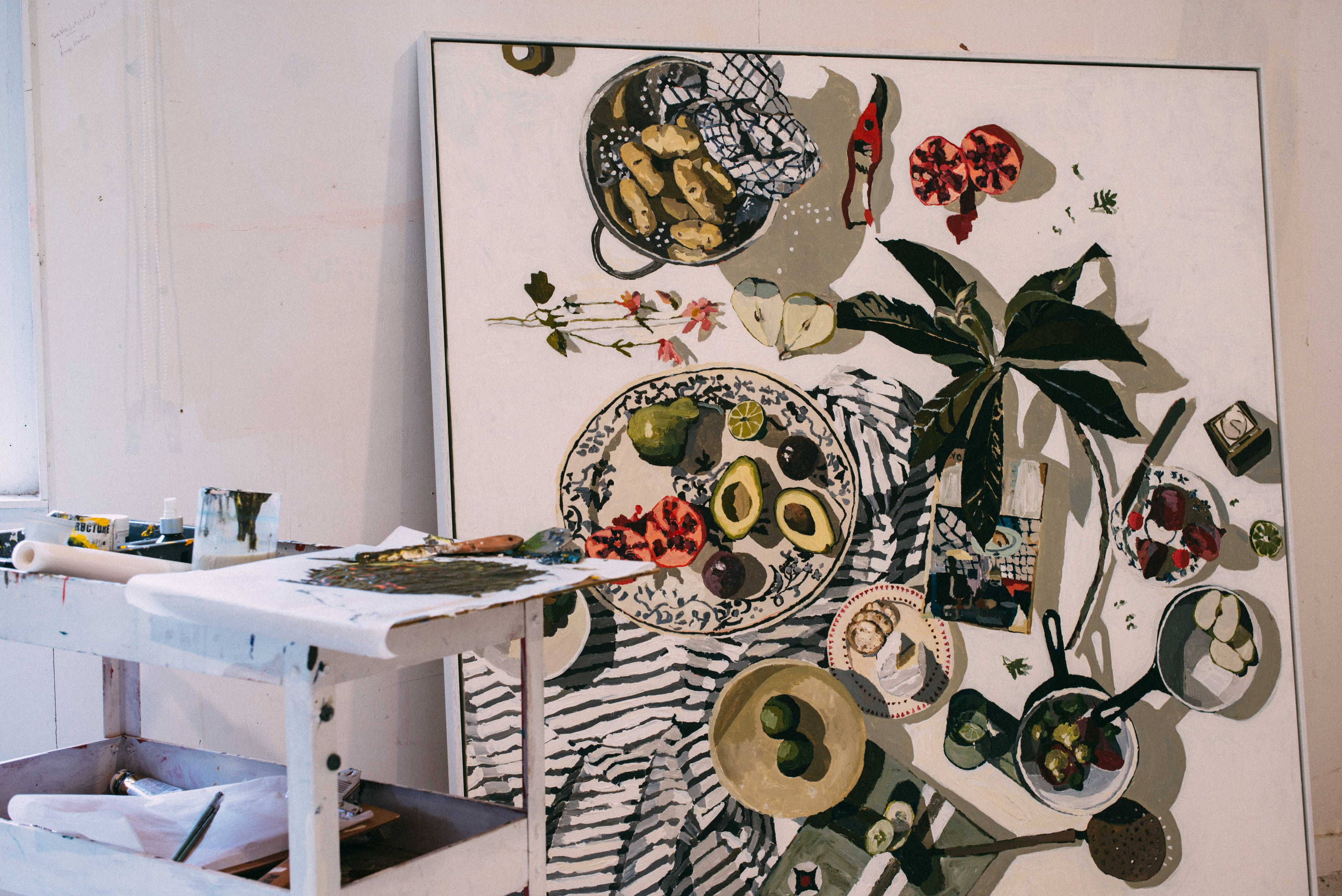 Your studio in the Southern Highlands of NSW appears picture perfect. Is it a place that supports ideas and imagination?
It certainly supports my imagination. It has the perfect proportions of a practical studio space, a rambling and wild garden that sings a new song every day, shelves for books , an Aga for warmth and all the trimmings and chaos of family life. Lucy, my daughter, adds a good dose of glitter and fluro pink to the mix. We were very fortunate that when we bought this place, my parents sold Crackenback Farm, the Glenn Murcutt designed guest house I grew up in in the mountains, so we inherited a lot of antiques, bottles of Schnapps and old photos from the 70's which are the starting point for paintings. I guess I'm trying to decipher how to live by looking backwards at my parents and forwards for my kids.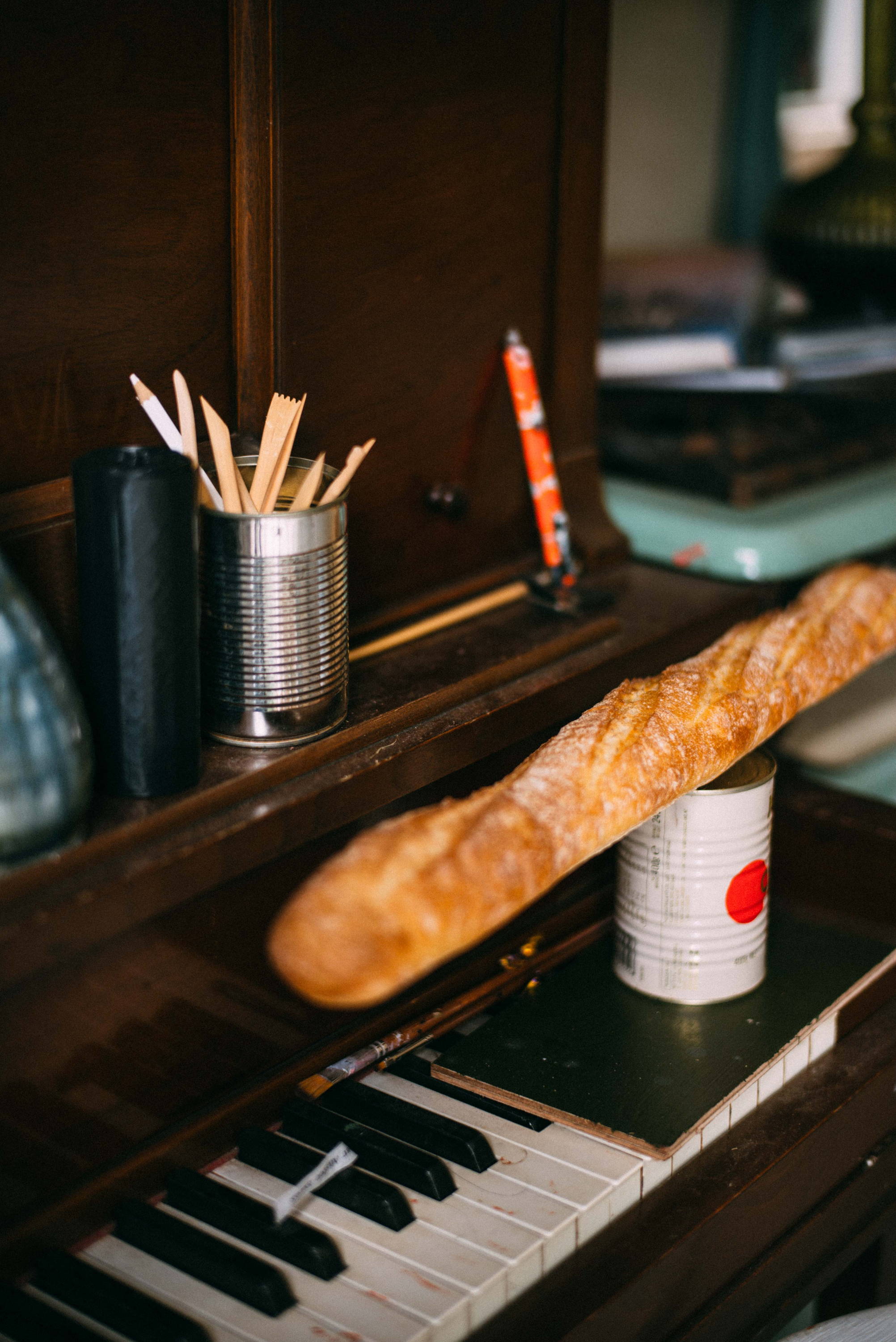 Painting is a notoriously messy business – what is your daily workwear and how does it adapt to the seasons?
It's a nightmare how messy and crazy I look. Fortunately, I've created a formula to get me out of strife with my family for looking like a nutcase. I have terribly daggy studio clothes covered in paint and often I need to be at a gallery or school pickup, so I literally jump in the shower for five seconds and then throw on of Lee's dresses and a trench coat and become a responsible, cultivated, caring contributor to society. The Southern Highlands has become so gentrified lately I can't get away with wearing the studio clothes even to the supermarket now! It might be time to move further south: my friend and artist, Lucy Culliton says Bombala is particularly great for this reason.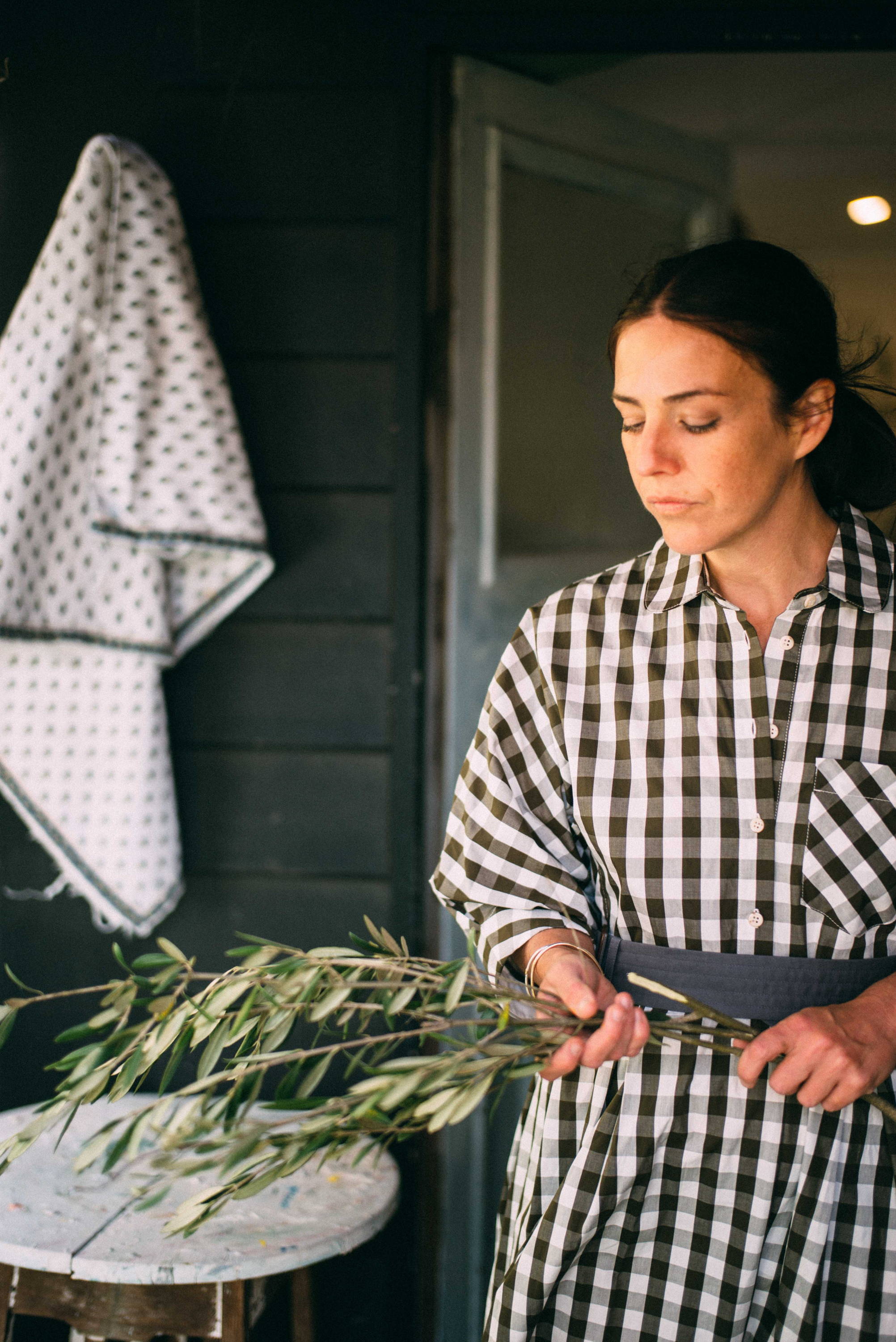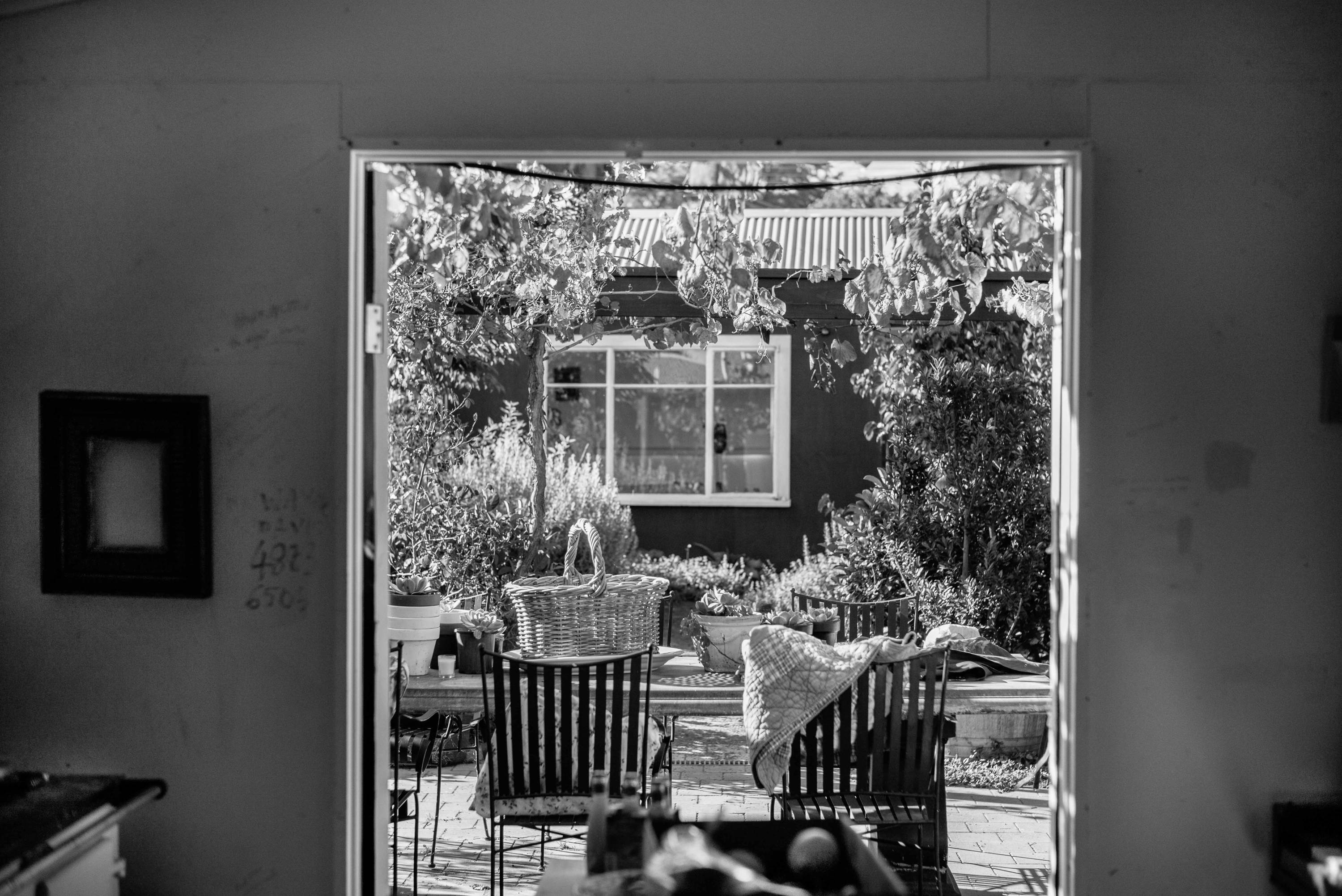 The colours and patterns in the Lee Mathews clothes you have chosen sit so well with your aesthetic – is that sort of alignment a conscious decision or does it just occur instinctively?
I've always admired Lee's ability to be to be both complicated and exaggerated, almost to the point of being surreal in one moment, and then hold a beautiful restraint the next. She can combine a symphony alongside a Haiku poem and it's joyous to see, and it's lovely to think we share similar philosophies and aesthetics. Pattern is one of the elements of my painting, I often miss designing and so I incorporate a lot of design elements into my painting.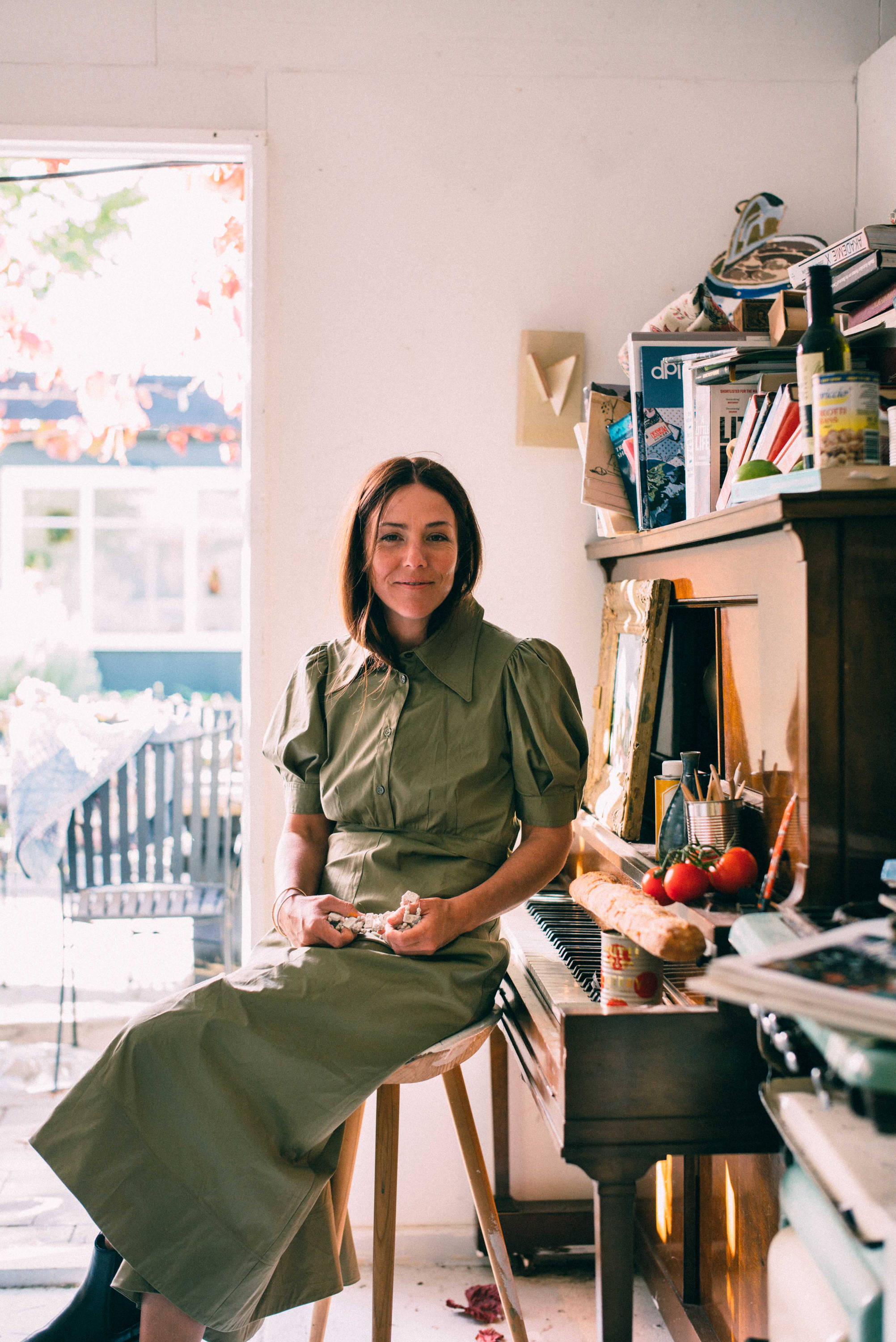 The world of an artist is predominantly solitary and then suddenly you are flung into the limelight at an exhibition opening. How do you dress for that occasion?
It's tricky because often the lead up to a show is full of stress, adrenaline and apprehension about putting all your ideas out there and you feel very naked. There is a tendency to want to put something black on and hide all those feelings so  it was such an epiphany to find Lee's dresses as they are the perfect combination of celebration and security - I feel I can be the centre of attention without feeling vulnerable. Often if  I'm feeling stressed and not particularly confident because I'm tired, that's when a great jacket, jumper or dress works - fashion is my thickest skin.
"If my wardrobe is unified by anything it would be quality materials and craftsmanship. I can't ignore a great pattern either as pattern is a language of celebration and each day should be celebrated in some small way, such as a lining on a jacket makes me smile time and time again."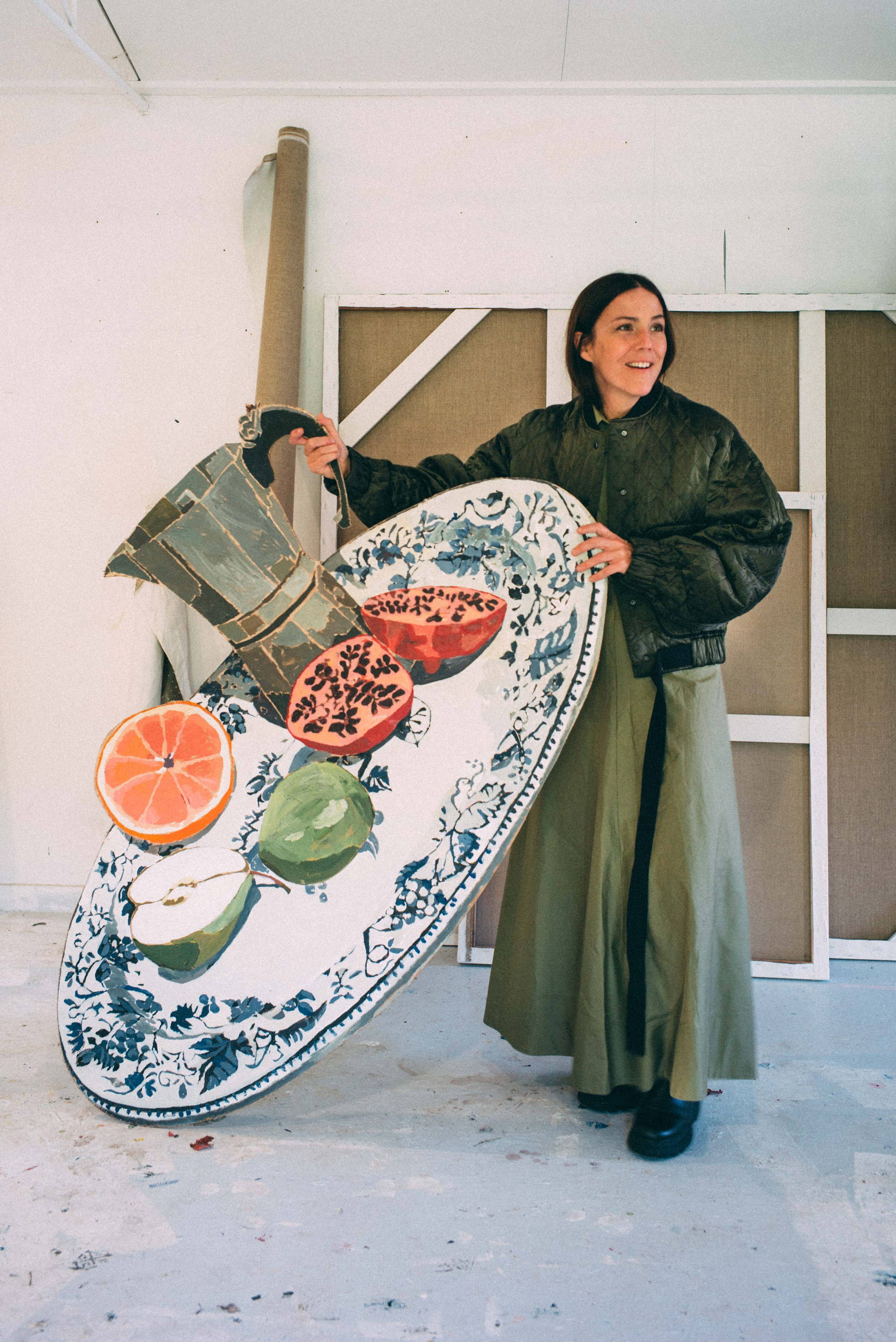 Fabric, shape, colour, pattern, fit – what drives your choices?
Collecting fashion is really similar to collecting art. It's an investment. I won't buy something for one season or for fashions sake, I'll buy it for life and take care of it, I don't buy it so much for how it looks, but how it makes me feel. If my wardrobe is unified by anything it would be quality materials and craftsmanship. I love cotton, cashmere and linen. I can't ignore a great pattern either as pattern is a language of celebration and each day should be celebrated in some small way, such as a lining on a jacket makes me smile time and time again.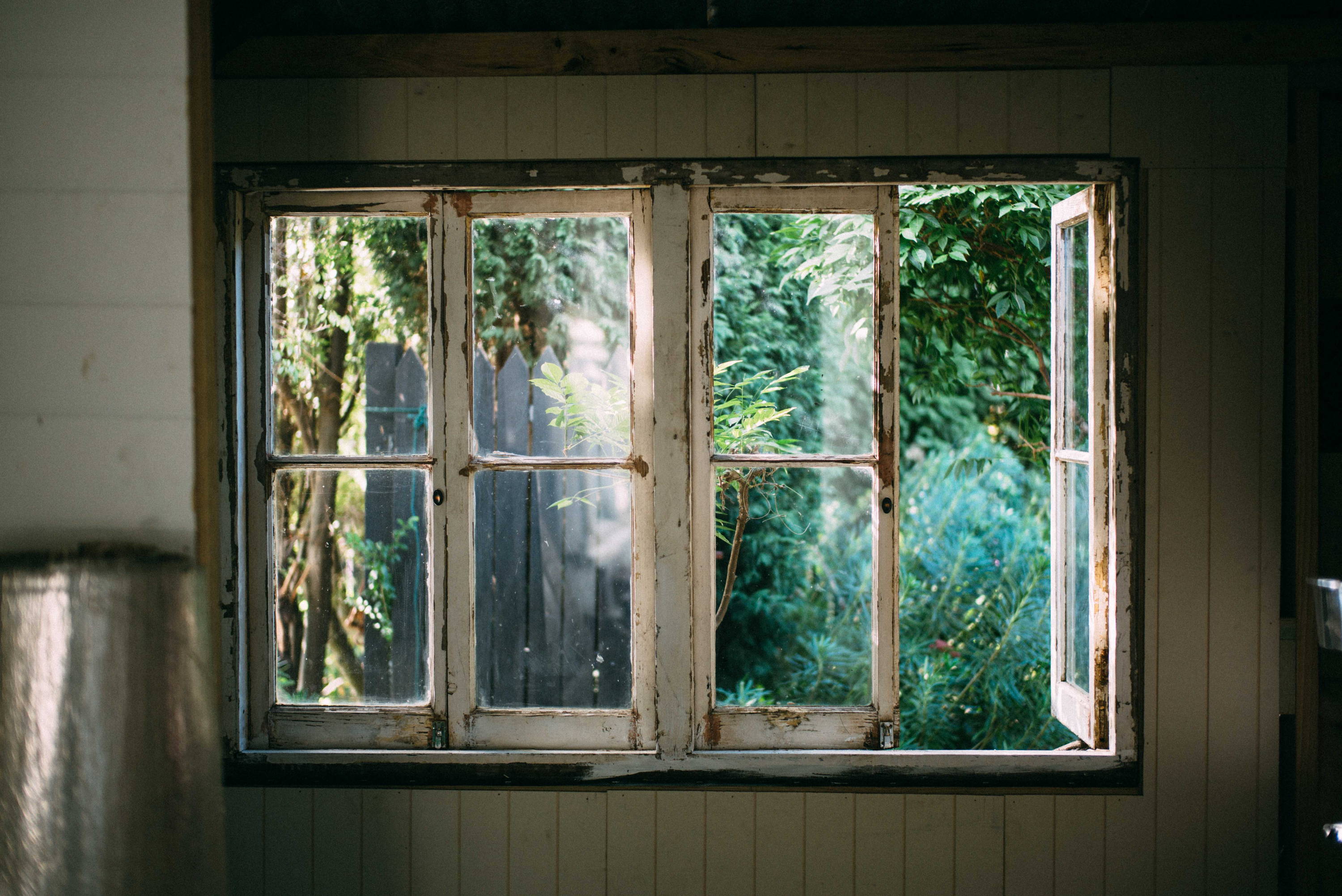 There is such joy in your work – are you a positive person and that how you see life?
I think I have great moments of enthusiasm, to the point of the delusional but I've learnt my limitations and there is freedom in finding the boundaries and working within them. Each painting has the parameters of the canvas and each show has the parameters of those works. The chaos of Covid caused me to question how I presented my shows. I felt the traditional exhibition gallery model for presenting exhibitions wasn't working for me. So, this year I've really looked at the creation, exhibition and delivery of my shows to audiences as being one whole cohesive creation. I realised that my childhood experience of growing up in hospitality equipped me to present my work myself and I'm looking forward to hosting studio lunches, building my own gallery and expanding the experience of what an exhibition is, one show at a time.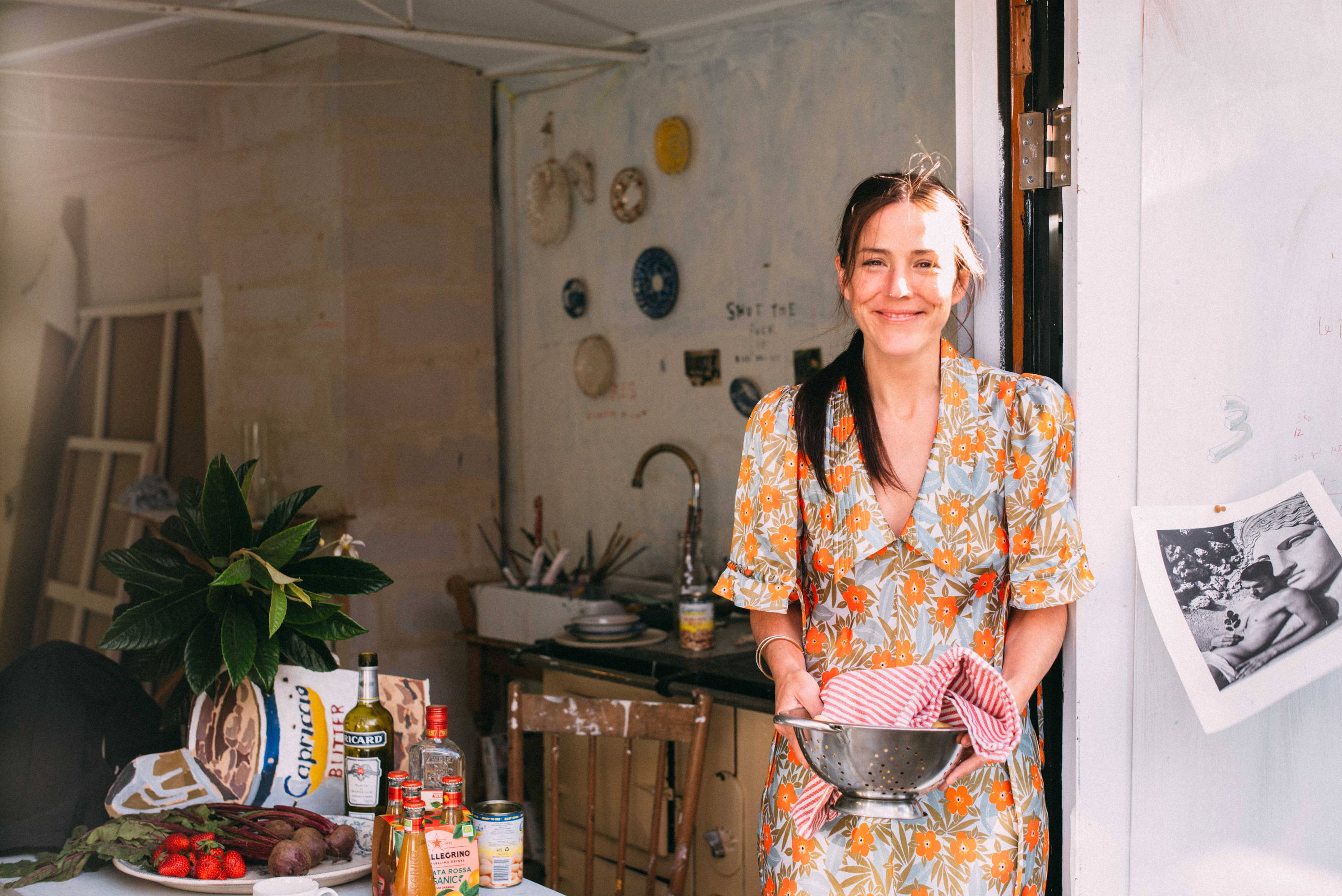 Select works are available for viewing at newly refurbished Briars Inn in the Southern Highlands where Zoe is artist in Residence for the next year. For exhibition details click here.