LM Woman #40 / Claire Lloyd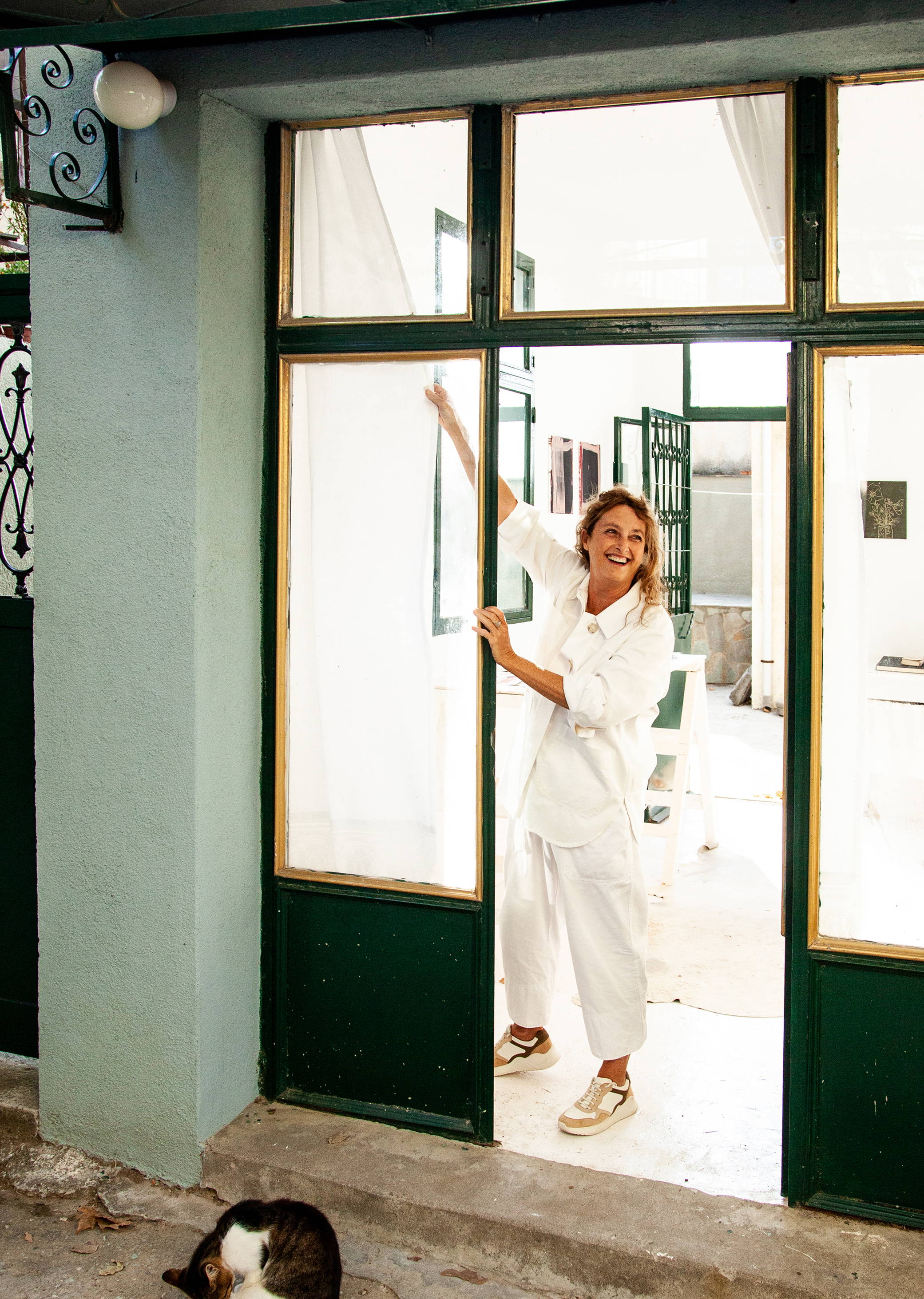 ---
LM WOMAN #40 / CLAIRE LLOYD
LM WOMAN #40 / CLARE LLOYD
Claire Lloyd is the embodiment of the word 'lifestyle' with an ability to segue between her personal style and her interior environments be they urban or rural, in Australia or Europe.
Supported by her partner Matthew Usmar Lauder they put tremendous energy into everything they do from revamping a Tasmanian shack to rescuing and re-homing cats and dogs on the Greek island of Lesvos.
---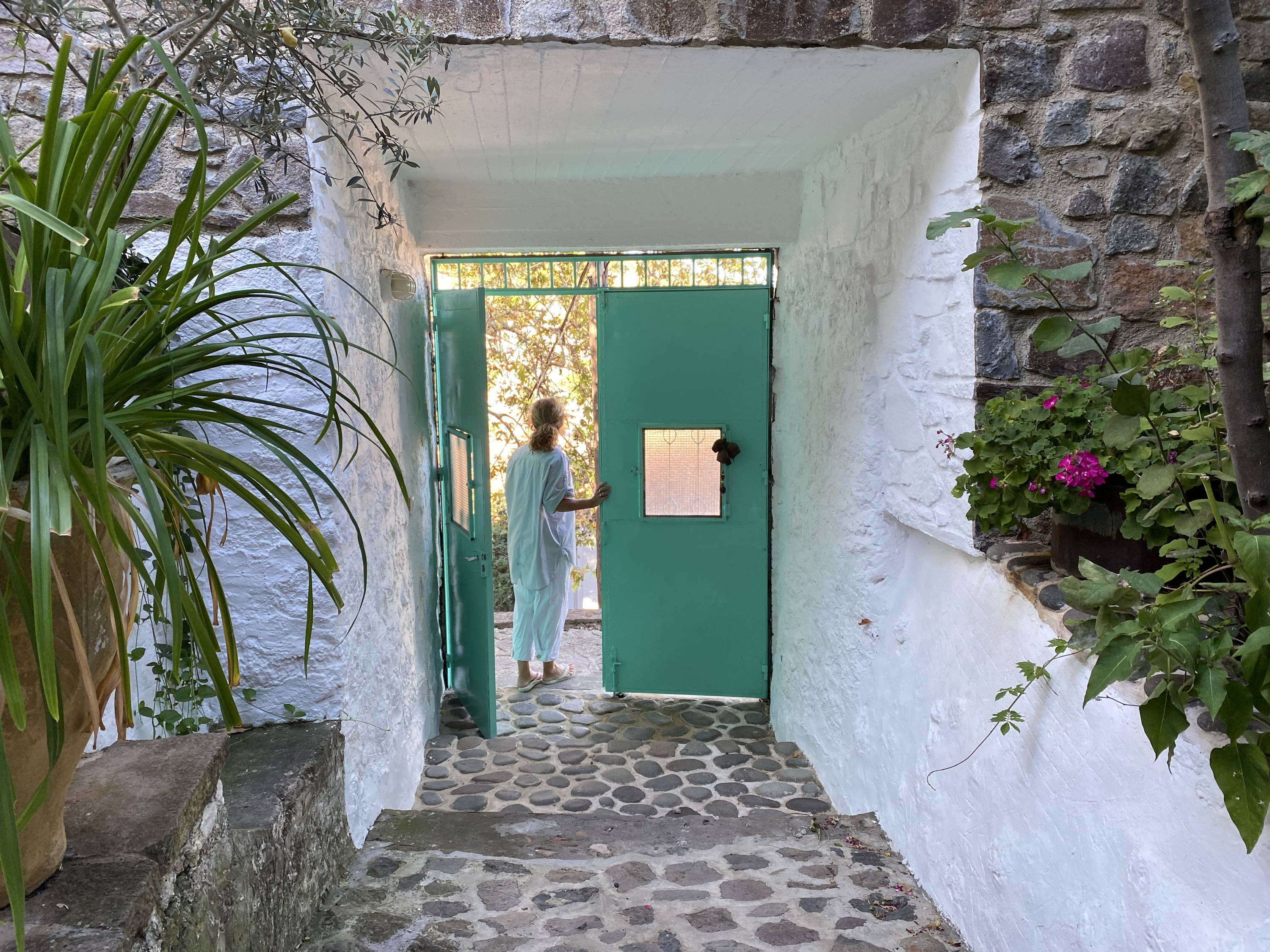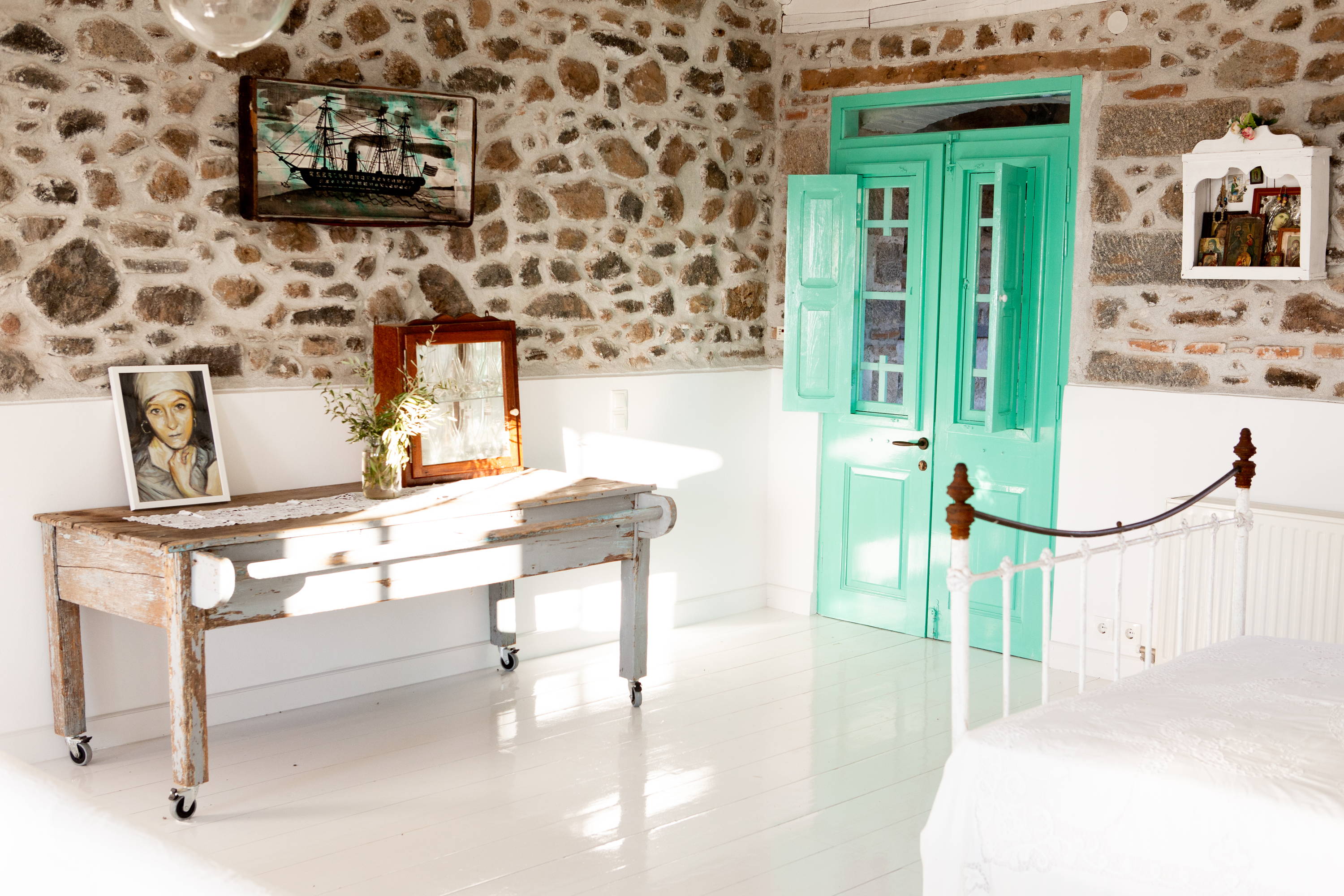 You live, or have lived in Sydney, London, western Tasmania and the Greek Island of Lesvos – where are you most at home?
I feel at home in all the places I love but I guess, I feel particularly at home in Greece and there is something about Lesvos that has grabbed at my heartstrings.
Your career as an art director and creative director for magazines and brands, including your books Sensual Living and My Greek Island Home, has always been about the power of the visual message. What is that visual for you?
My language is visual and my obsession is beauty. My connection to anything starts with my emotive response to the visual.  Of course, everyone sees things differently and has different responses. I feel strongest when I am creating visually.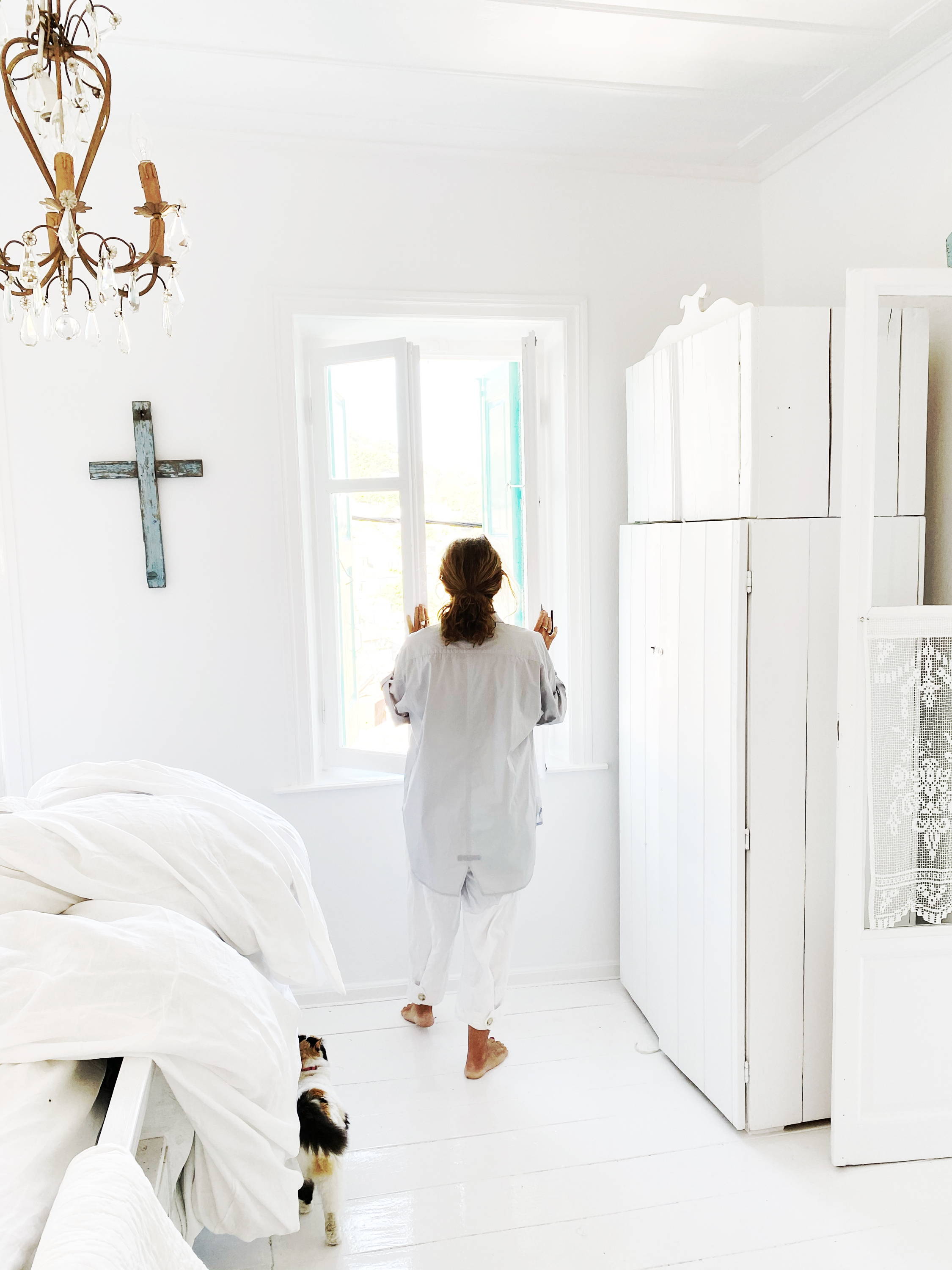 How aware where you of the notion of 'style' when growing up?
I have always been an observer of people and places and fascinated by how they live and what they wear.
One Christmas when I was staying at my Grandma's in Bondi, she was visited by friends, who arrived in a blue Citroen DS  and it made my head spin. It was so beautiful and sophisticated and when the handbrake was engaged the car lowered itself to the ground… it blew my mind.
When I was young my mother had a book where she sketched her ideas for beautiful dresses. She was untrained but naturally talented and she would make all her own clothes and clothes for her friends including ballgowns.
As a teenager I drew in that book too, I drew clothes which I would show mum along with fabric that I had bought from the money I earned at my Saturday job. She never said NO and I always had something new and beautiful to wear.
My dad worked in publishing and every month he would bring home a copy of Vogue Australia, which was a huge influence on me from about the age of 12 . Vogue opened my eyes to the world of fashion and beauty and sparked my imagination. I would often draw images of models from its pages and when I was 21 I got a job there. It was brilliant working there and put me on the path to London.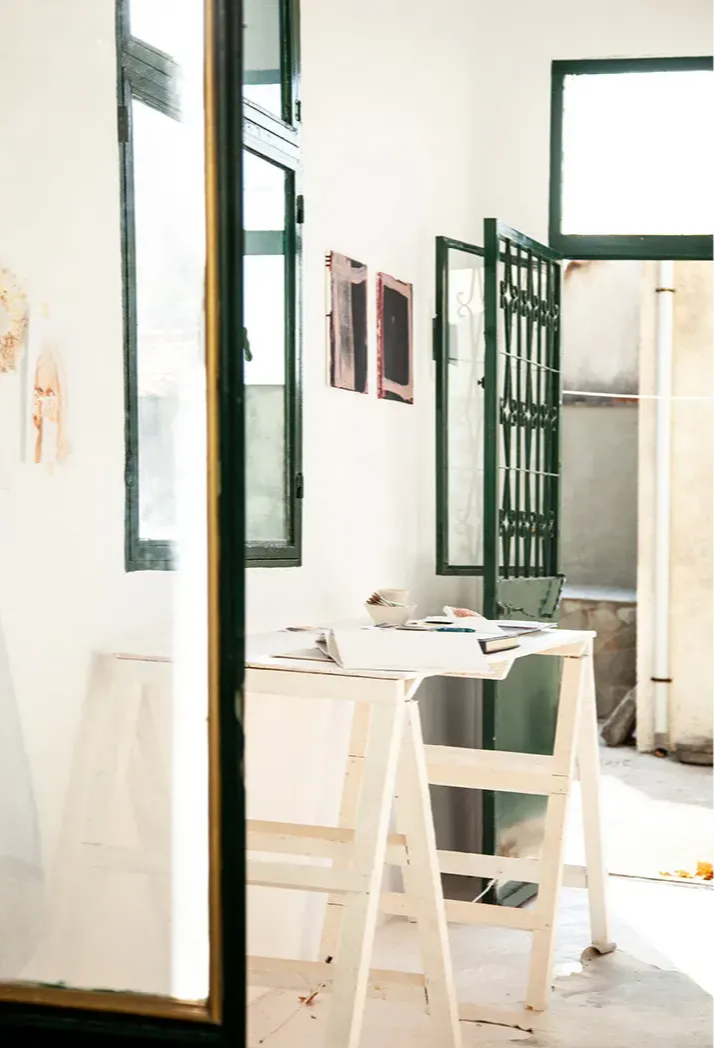 The way you dress has an effortless quality. What do you look for in clothes?
Simplicity is everything. Fabric is very important, how it feels against my skin, how it hangs from my body and how it moves when I move. I love layering fabrics; linens, silks, quality cottons and cashmere.  Fabrics are sensual. For me the more relaxed the better, with a touch of detail… it's all in the detail.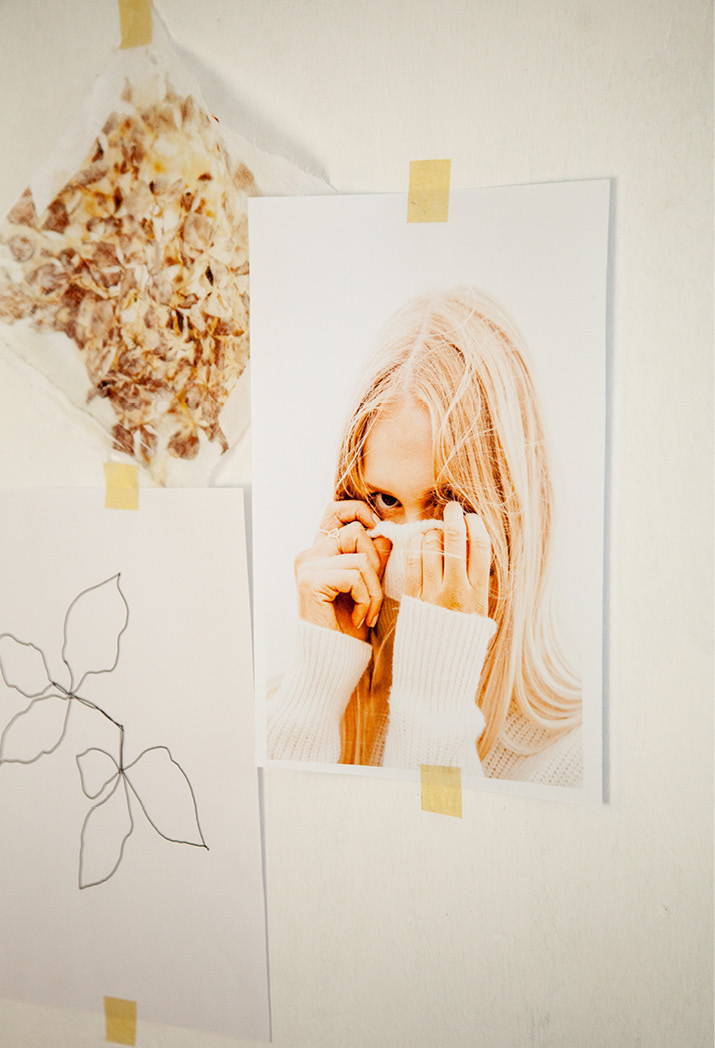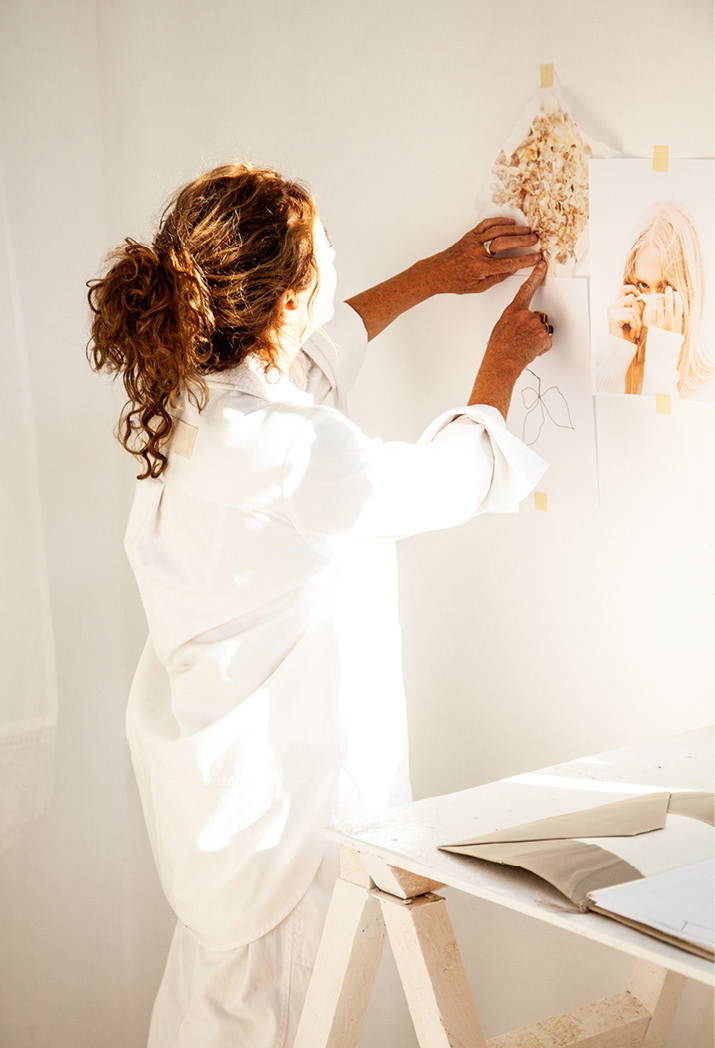 How would you describe your current clothing preoccupations?
I don't tend to have preoccupations with clothing, I've noticed some change over the last few years where a touch of soft pink and dirty lilac crept in to my almost all white colour palette.
You have a distinct interior style, favouring white, texture, fabrics and simplicity – what is the relationship between the clothes you wear and the spaces you inhabit?
They are all white -HA HA !
I love them both to feel nurturing, uncomplicated, simple and light.
They both work together seamlessly, there is no difference, for me they flow. I could easily pick up a throw from my bed and wear it as a wrap or vice versa.
It's not deliberate, it's instinctive.
What advice do you have for how we can be more sustainable in our approach to clothing?
Being aware of what you are buying and the sustainability of the materials used is without a doubt the first step. Then choosing wisely, choosing less and handing on the clothes that no longer serve you to someone who will love and wear them.
If you could only keep one outfit what would it be?
Probably an old thick linen nighty bought from a market in France. I could use it night and day, dress it up with some Greek bracelets or simply sleep in it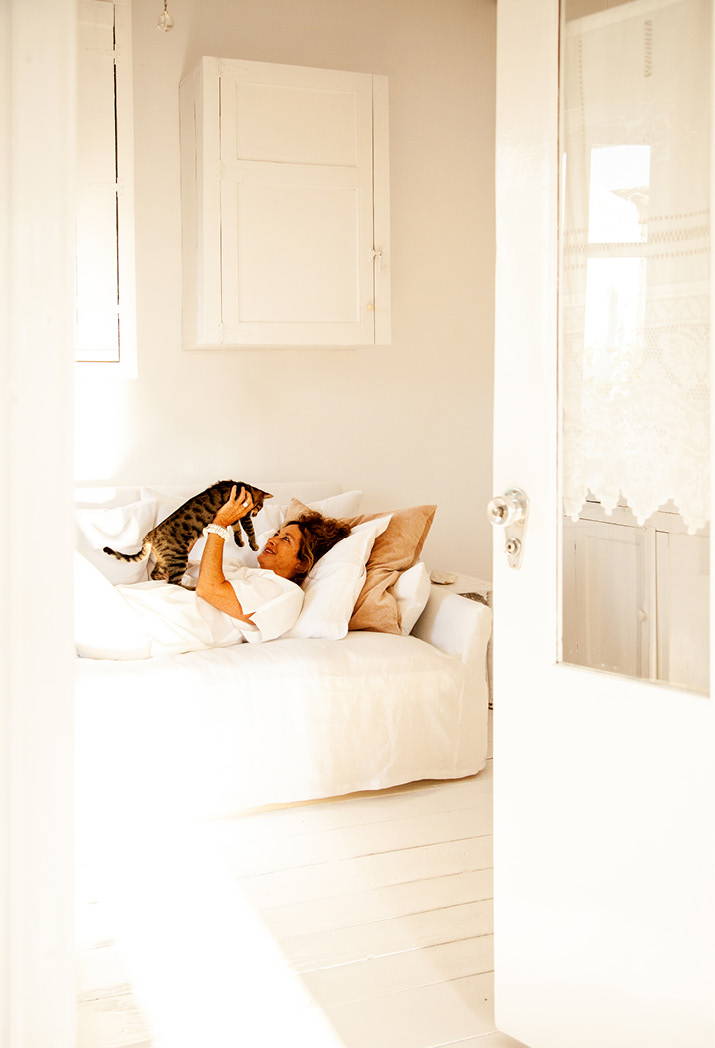 What matters to you when adding to your wardrobe?
What matters is that I don't have to think about it. If something grabs my attention and I know it will work on me then that's it. I definitely don't go searching. I don't actually like shopping.
When I see something that I like I know immediately, with no procrastination.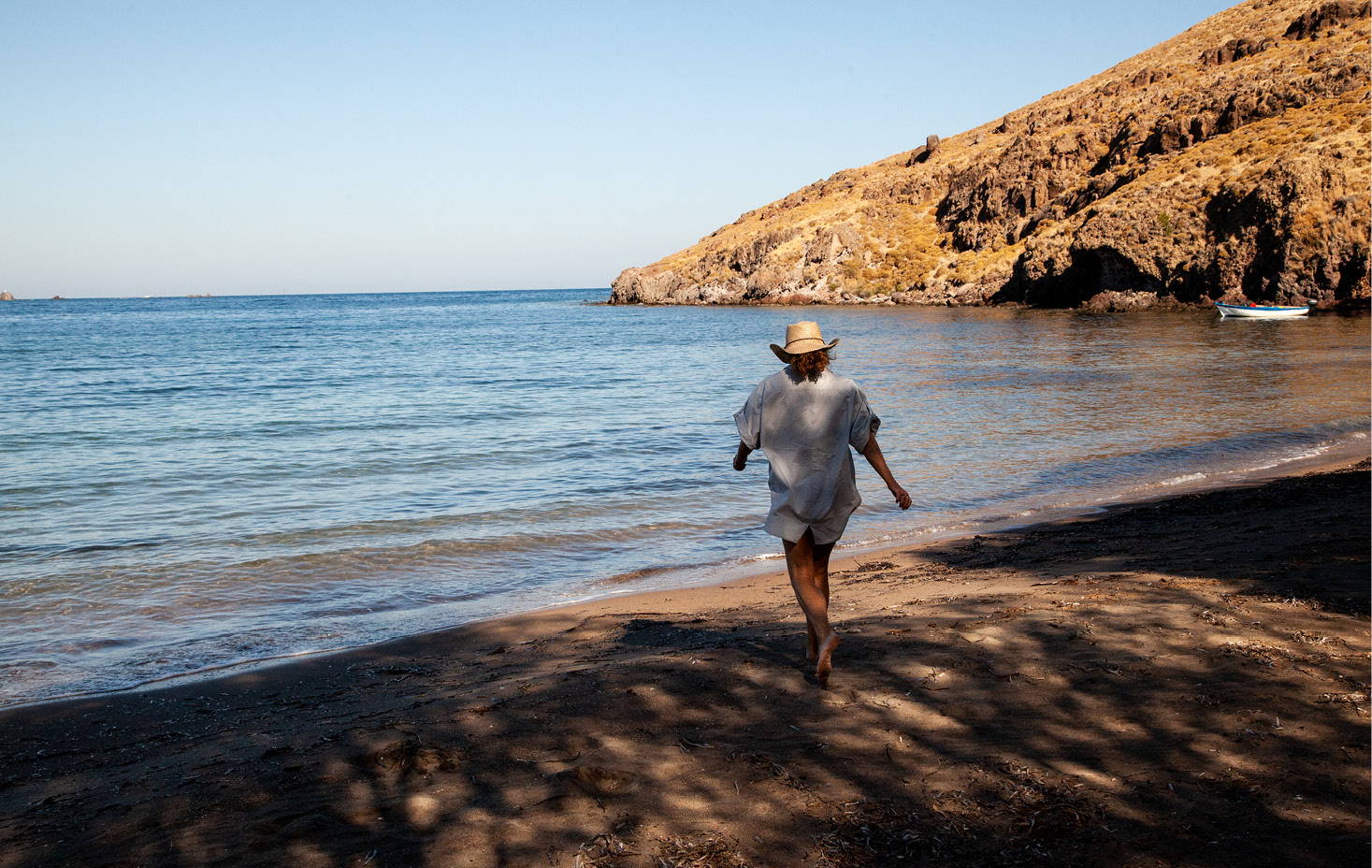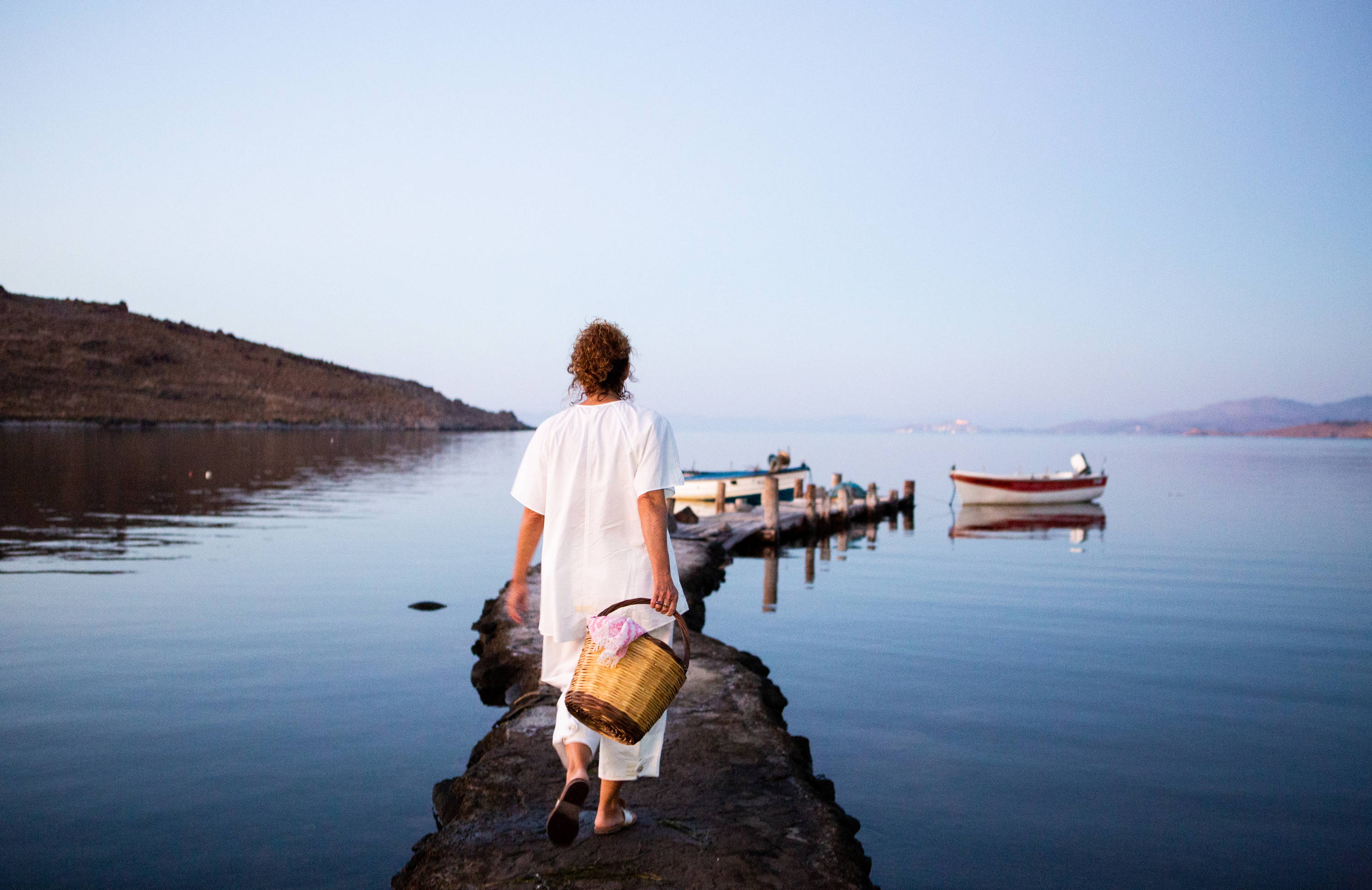 You recently refurbished a fisherman's shack in Strahan, Tasmania. What was the creative process in taking a ramshackle property and adding your distinctive style?
This has been such a lovely project for Matthew and I and we are so in love with the little shack we've called, 'Bushy Summers'.
We worked together for about 6 months, Matthew doing the lion's share of the work and we poured so much love into it. It's a very special little place on the water's edge of Lettes Bay on the West Coast of Tasmania.
We bought an old caravan and parked it next to the shack and there we slept for months on end, in all kinds of weather, without electricity or general creature comforts. It was a challenge, a joy and an achievement.
We tried to keep some of the original features of the place, such as  the pressed tin ceiling in the front room. We  then decided to find something similar to use in the bathroom and on the back wall of the bedroom, it felt right and looks fabulous.
One thing we did which was particularly successful was to put in an internal window between the bedroom and the sitting room. This window is exactly the same size as the window that looks over the Lettes Bay, so now you can lay in bed and view the day unfolding.
We are really excited to be able to share Bushy Summers  with other like-minded people. It is the perfect retreat, away from daily stresses where you can nurture yourself and your creativity.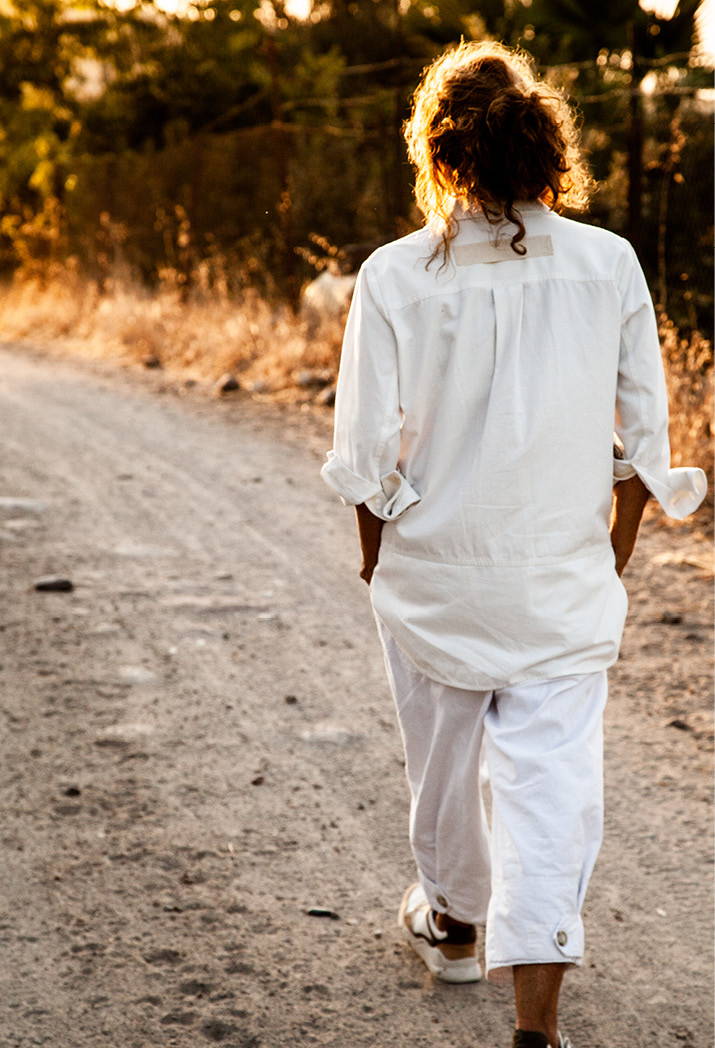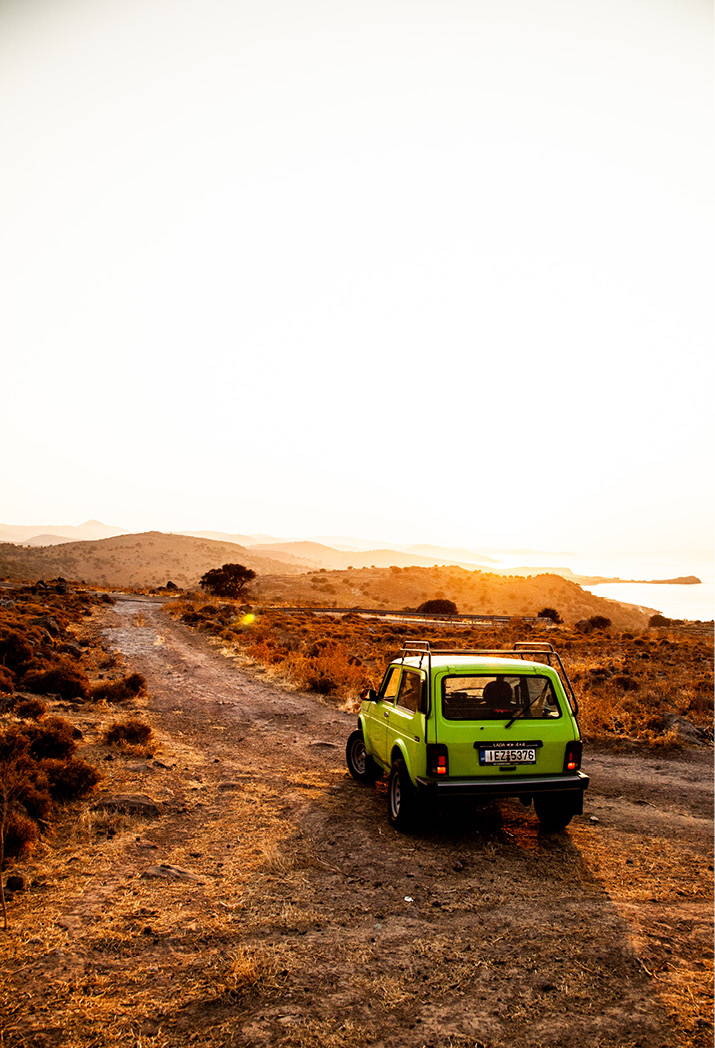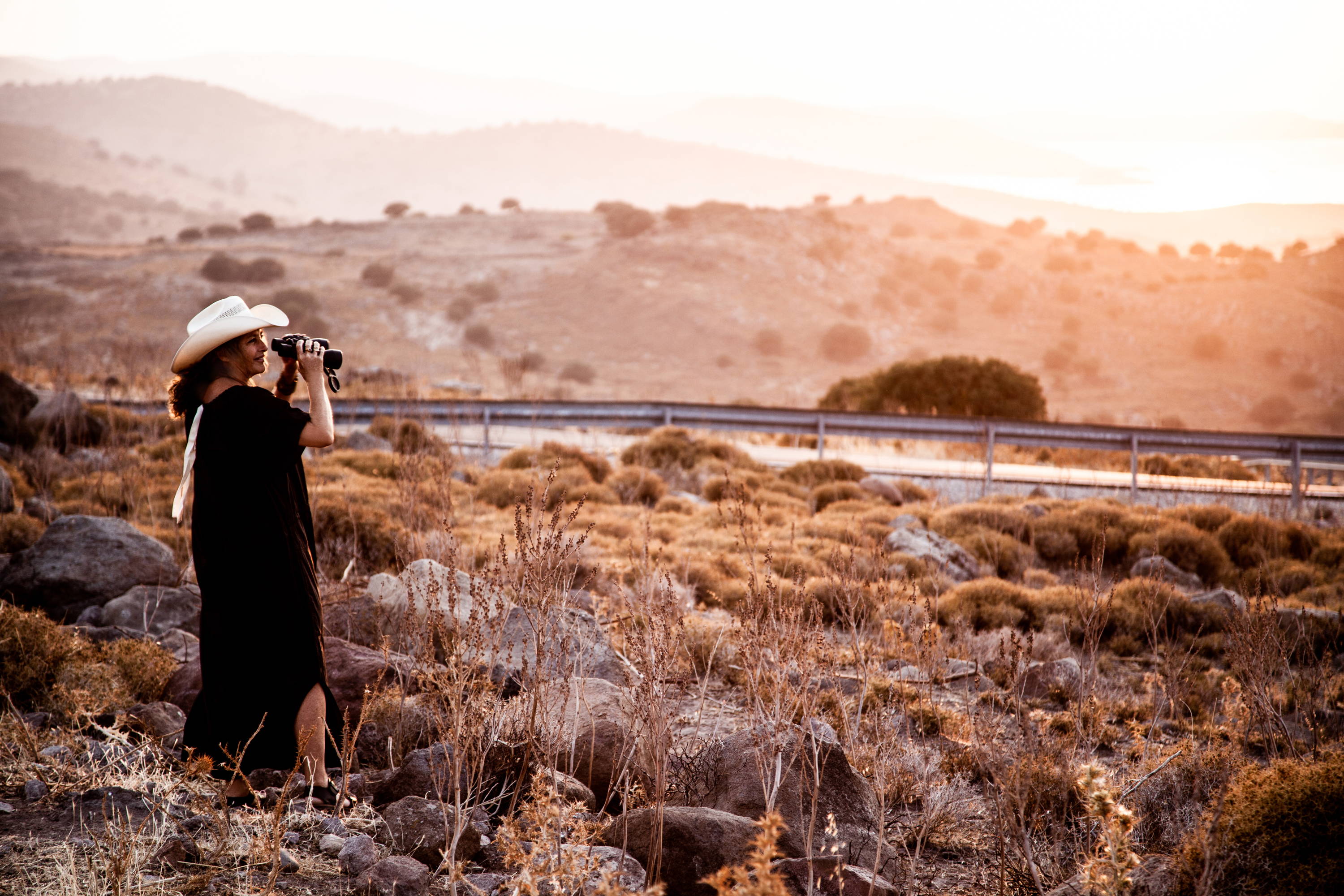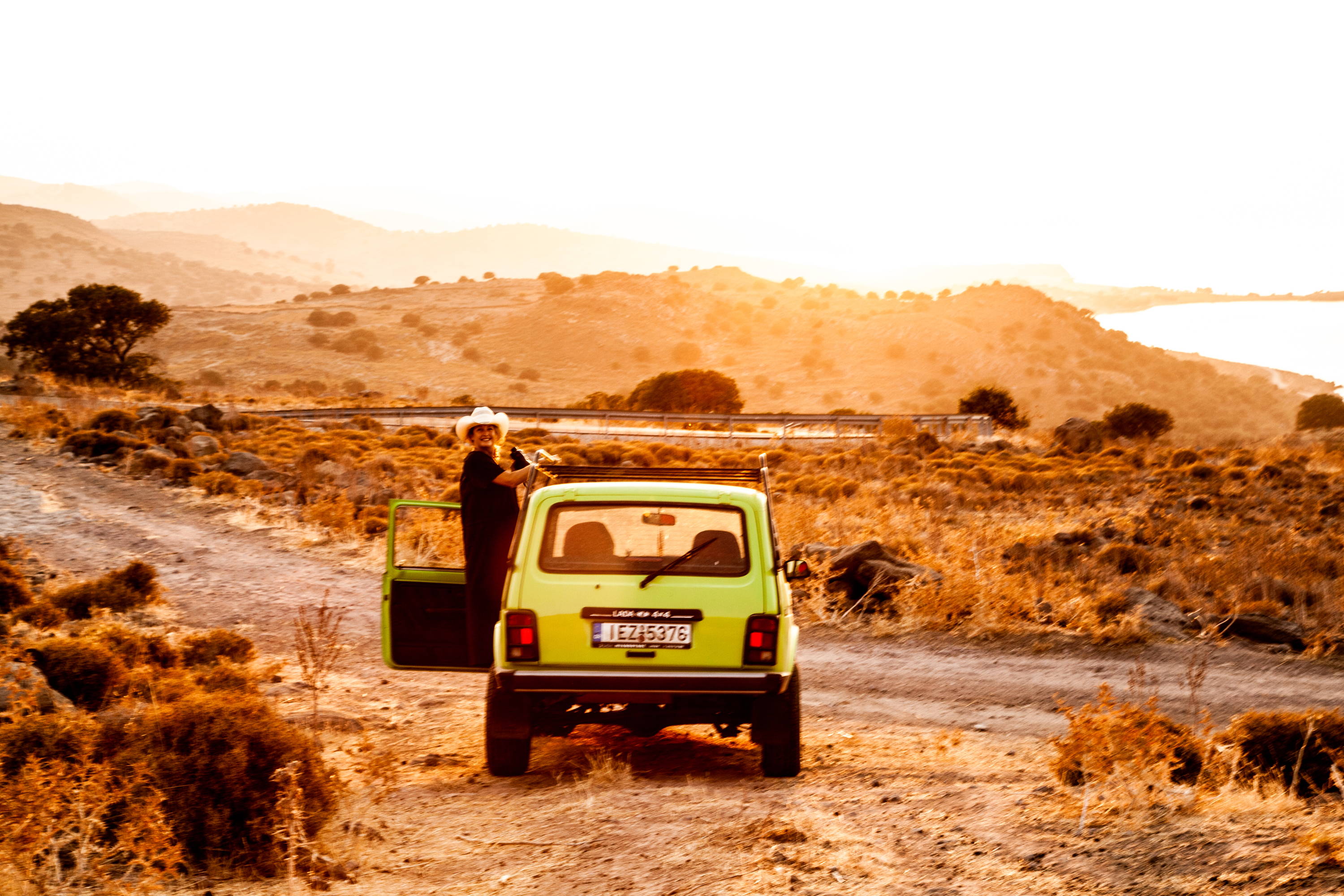 Take us through a typical day on Lesvos?
There is no typical day here for me and there are many distractions.
I do try and put some routine in place with exercise and a couple of weekly Greek lessons but essentially the day just unfolds, sometimes gently and sometimes in rather a chaotic way. I've had to learn to be patient and to expect the unexpected… I still find that difficult.
Being in nature is a must for me so in the warmer months I like to walk to the Limani, our nearest beach, and swim. I have a little studio in the village and I photograph, film and generally observe. I love spending time in our light filled, village house. It is serene and pretty and a lovely space to entertain friends or just hang out in.
The summer is always busy with friends and family coming to stay and lots of trips to the beach and local tavernas serving delicious food. Time passes faster here than anywhere else, that's for sure.
Animal welfare is an enormous part of what you and your partner Matthew do. Tell us about the role of rescue and re-homing local cats and dogs. And how many do you have at present?
The short version is neither Matthew nor I ever saw ourselves as pet owners but
on Lesvos there are many stray cats and dogs as neutering is not something people here choose to do. This means there are animals in need of care, rehabilitation and rehoming.
Although, initially, we didn't put our hands up for this we couldn't turn a blind eye to the situation.
So, for 15 years we have been doing what we can. Sadly, our first rescues, a cat called Sweetie and a dog called Nellie both died this year. Now all cats and dogs that we rescue are only passing through. Over the years we have rehabilitated and rehomed well over 150 dogs and heaven knows how many cats.
We now have a network of wonderful people on the island who help us when we need it but the main people we now work with are 'The Wild at Heart Foundation' in the UK and 'Sapphos stray cats' in the Netherlands.
---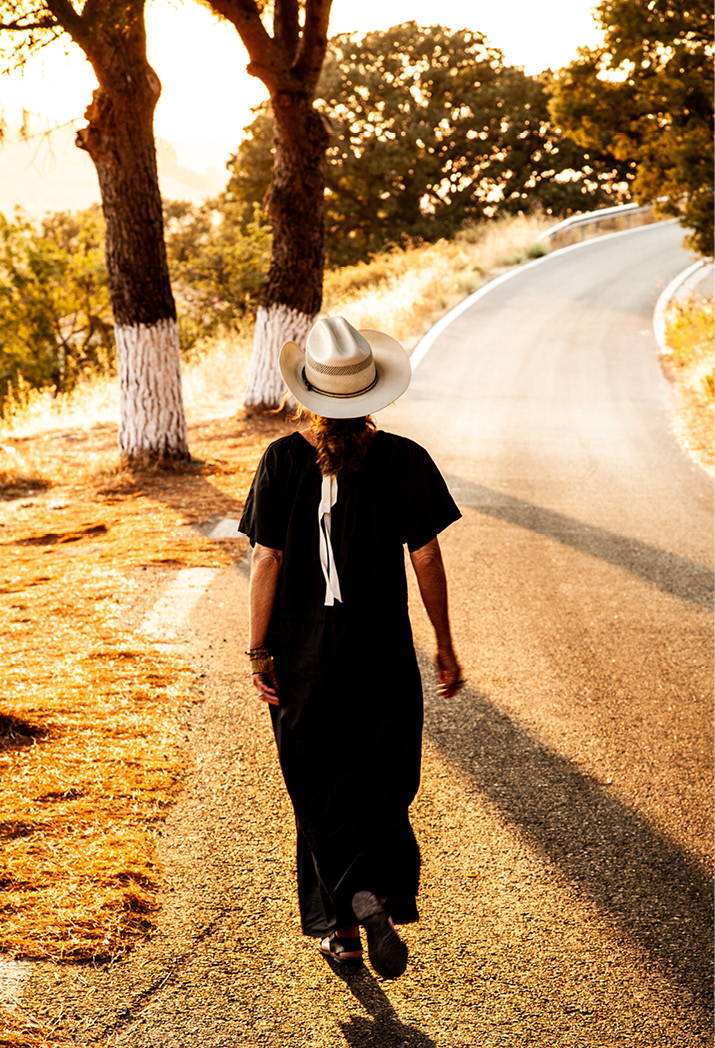 Lesvos has been in the news due to the number of refugee arrivals. Has it altered the nature of the island and your relationship to it?
This is a very sad situation. The island and its people have been through a lot and of course the situation has affected everyone on the island in some way or other. The people here have been extremely kind and caring but it's very frustrating for both the locals and the refugees. The refugees have ended up in a place that is not in any way ideal. I can't help but think it could happen to any of us. These people are just like all of us but sadly not able to live in their country. This situation has not altered my relationship to the island but it has made me think about  the hardships of others and made me sad at times.
It is true to say that when you only see these things on the TV it's somehow easier to disengage.
I wrote a post about the situation in 2015 here.
The images here, which you and Matthew took, have a great sense of connection to landscape, to place. Is the natural context an important part of what you love about the island?
Lesvos is such a beautiful island, it's the 3rd largest Greek Island. The topography differs vastly from one part of the island to the other which is one of the main reasons I was drawn to it.
The landscape is stunning and every day I'm here I feel privileged. I walk, I drive and everywhere, every corner I turn, there is endless beauty.
I feel such a sense of freedom here.
I realise now, at this time of my life, all the joy nature brings, and Lesvos dishes it out in spades.
---
---
---
---